Raw Food Replacements For Cooked Food Cravings
When first transitioning onto the raw food diet is one of the biggest challenge is dealing with cravings.  So, I wanted to create a list of some of the most common cravings from the SAD (Standard American Diet) and then share with you what I use as a replacement.  This is especially important in the transition phase.
JUNK FOOD/SWEETS CRAVINGS – RAW FOOD ALTERNATIVES
Applesauce- Cranberry orange apple sauce
Cake- No bake carrot cake, Sweet Potato Cake with Lemon Frosting, Red Velvet Cake Bites
Candy – Fresh dates
Chili Cheese Fries- Jicama chili cheeze fries
Chips – Kale chips, Zucchini chips
Chocolate Flavor – Carob powder, Cacao nibs, Cacao powder
Chocolate Mousse- Chocolate Mousse
Chocolate Pudding- 3 Ingredient Chocolate Pudding Bliss
Chocolate Spread- Carob ganache
Cookies- Gingerbread Truffles, Cherry Walnut Orange Spiced Truffles
Cream Cheese Spread- Cashew Cheese Spread
Dessert- Key Lime Cookies,Raspberry Neapolitan Bars
Ice Cream – Frozen fruit ice cream, Strawberry Fig Ice Cream, Banana Strawberry Basil Ice Cream, Chocolate Ice Cream Sandwiches, Banana Berry Nice Cream, Pineapple Ginger Sorbet, 
Parfait- Basil Pineapple Parfait
Pie-  Raw Vegan Apple Pie, No-Bake Peach Cobbler
Tarts- Mango tart
Shakes-  The Raw Vegan Date Shake, Strawberry Shake, Cherry Chocolate Smoothie, Apple Pie Smoothie
DRINKS
Egg Nog- Egg-Less Nog
Latte- Raw vegan pumpkin latte
Lemonade- Mint Lemonade Whip
CONDIMENTS – RAW VERSIONS
Mayonnaise- Cashew Mayo
Mustard- Homemade Spicy Mustard
Salt– Dulse flakes, dried celery flakes, or very sparingly pink Himalayan or Celtic Sea salt
Vinegar – Lemon
BREAKFAST-RAW VERSIONS
Breakfast Bars- Spiced Carrot Breakfast Bars
Cereal – Fruit Loops, Anti-inflammatory Cherry Smoothie Bowl, Green Smoothie Breakfast Bowl, Hearty Fruit & Nut Bowl
Milk- Nut milks, banana milk, or coconut milk
Energy Bar- No Bake Energy Bites
Oatmeal- Apple cinnamon "oatmeal", Chai Spiced Chia Pudding, Chocolate Coconut Chia Pudding, Heart Healthy Chia Porridge
Smoothies-Lemon Drop Green Smoothie, Ginger Apple Pumpkin Spice Smoothie, Strawberry Sunrise, Rhubarb Berry Smoothie, Orange Creamsicle, Mango Apricot Smoothie
Toast- Cinnamon Flax Breakfast Cracker
POPULAR MEALS-RAW FOOD ALTERNATIVES
Macaroni & Cheese- Mac & Hold the Cheese
Pasta – Zucchini/squash noodles spiralized or kelp noodles
Pasta Alfredo-Pasta Alfredo
Pesto- Arugula walnut pesto
Salad-Asian Chop Salad with Almond Butter Garlic Dressing, Shredded Rainbow Salad, Persimmon Pom Salad with Lemon Tahini Dressing, Arugula Peach Avocado Salad, Orange Mint Fennel Salad, Fennel Apple Pecan Nourish Bowl, NOT Tuna Salad, Zesty Cranberry Broccoli Salad, Winter Chopped Salad
Sandwich wraps – Sweet 'N Savory Lettuce Wraps, Rainbow Veggie Wraps, Zesty Tropical Mango Lettuce Wraps
Soup (Chilled)- Spicy Chili Mango Soup, Cucumber Gazpacho
Soup- Coconut Curry Soup, Creamy Basil Tomato Soup, Heirloom Tomato Soup, Savory Chipotle Bell Pepper Soup, Cream of Celery, Carrot Orange Ginger Soup, Creamy Squash Soup
Taco meat- Spicy meatless taco meat
Tuna salad- Raw vegan "tuna" salad
Veggie dips – Raw hummus, Sweet 'n Tangy Mango Sauce, Cheezy Chipotle Dip
APPETIZERS-RAW ALTERNATIVES
Hope this is helpful.  Wishing you the best on your raw food journey!
Now it's your turn, what foods do you find yourself craving and how do you satisfy them?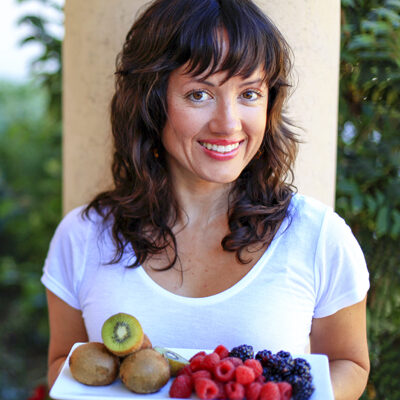 Hi, I'm Christine, thanks for stopping by! As a fibromyalgia thriver (symptom-free for over 10 years now thanks to diet and lifestyle changes), it is my passion to share the healing power of food.
As an RN and Holistic Nutrition Practitioner, it is my desire to empower you to take charge of your life.
Let's journey together to glowing health. Learn More
Your Health Transformation
Starts Here!
Sign up to get FREE healthy lifestyle tips and recipes!