Asian Chop Salad with Almond Butter Garlic Dressing
Are you looking for a healthy, delicious, easy to put together dish to bring to parties or potlucks? Look no further this Asian chop salad is for you! It has been tried and tested and was a huge success!
So, last week we were invited to a luncheon where everyone was contributing a dish. I knew there'd be limited raw or vegan options so I decided to contribute this gorgeous, flavor fest of a salad. It was big enough to share but would also be plenty for me as my lunch if there were no other options.
I 've found that when bringing raw food dishes to potlucks, making it attractive to the eye is half the battle..well I guess that's kinda always the case. But, at a potluck if you want your dish to stand out among many non vegan,sauce filled, cooked dishes it really has to be colorful and enticing. Unless you secretly don't want anyone to eat it so you can have it all to yourself, that's another story lol :).
I was a little nervous contributing this salad because I experimented with a new dressing recipe and hadn't had it taste tested to get the big thumbs up or down..
I'm embarrassed to admit it now but as a result I suddenly got nervous wondering if anyone would like it so I kinda hid my salad in the corner. My friend saw it sitting there and pushed it right up in line with all the other dishes…
To my delight, everyone started gathering around the table with their plates of food including MY salad.  I even heard comments saying, 'THIS salad is so good is there any more?, Who made this salad? I need the recipe!' I was so thrilled! When they went back to get seconds it was one of the first dishes to disappear even in the midst of all those tempting cooked dishes!
Needless to say, if they loved it then I know you will! The point is, don't be embarrassed or shy about bringing a raw food dish thinking you'll stand out or no one will like it.  When you think about it, the average salad is quite boring. So it really goes over well stepping out from the average and getting creative making a beautiful, colorful salad with a variety of ingredients. People love it! I hope you get a chance to bring this to you next dinner party and if you do let me know how it goes!
Recipe:
Salad:
1 head Romaine finely chopped
1 read bell pepper, diced
2 thin carrots, cut into match sticks size
2 cups broccoli florets
1-2 cups purple cabbage
1 cup snap peas, chopped
Add salad ingredients into a large bowl and set aside.
Dressing:
1/2 cup almond milk
3 tablespoons coconut amino's
2 garlic cloves
1 1/2 teaspoon grated ginger
1/4 cup lemon juice
1/3 cup + 1 tablespoon raw almond butter
1/8 teaspoon chili flakes
Blend above ingredients in a mini food processor or blender. Pour over salad and toss to mix in well.
Note: almond milk can be substituted with water if you would like it to be less fat. Almond butter can be substituted with any nut butter of choice.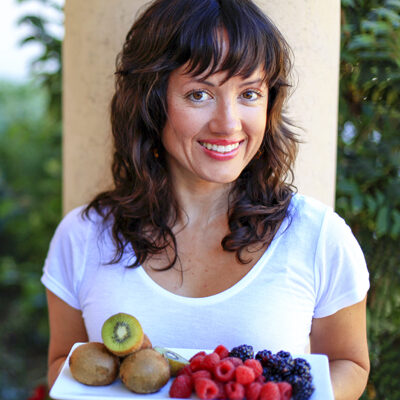 Hi, I'm Christine, thanks for stopping by! As a fibromyalgia thriver (symptom-free for over 10 years now thanks to diet and lifestyle changes), it is my passion to share the healing power of food.
As an RN and Holistic Nutrition Practitioner, it is my desire to empower you to take charge of your life.
Let's journey together to glowing health. Learn More
Your Health Transformation
Starts Here!
Sign up to get FREE healthy lifestyle tips and recipes!