This date shake is so delectable, creamy and sweet it is like a dessert in a glass.  It is literally one of my favorites! Last year I visited Palm Springs where they are famous for date shakes.  But  I found out they were full of ice cream, sugar, milk and they said the dates were actually a powder not even the real deal so I never ended up trying one, I was so disappointed.  So, I decided to create the REAL date shake all natural, no refined sugar, and dairy-free.  And let me tell you  even though I haven't tried the actual famous date shake, I am quite confident this one is just as good and in my opinion even better.  I have had many friends try this one and they loved it as a dessert!
I just ordered a box of dates form 7hotdates.  Now I realize I have never tasted real dates til now! They are ripe, fresh, organic, ooey-gooey dates that melt in your mouth just like caramel.  They have very competitive prices to that of the stores, I actually saved money buying them online and how great is it to have it delivered to your doorstep!
The key to this date shake is to add the dates at the end for the added chewy caramelly texture.  It really would not be the same without the added step.
Serves: 32 ounces (about 4 cups)
2 cups almond milk
1 fresh, ripe spotted banana
2 frozen bananas
5 large ooey-gooey medjool dates, pitted (if you prefer it sweeter add more dates)
1/2 tsp cinnamon
Blend all above ingredients except for dates on high in Vitamix for about 30-45 seconds.  Then add dates and pulse blend to make small chunks. It is that simple!
Enjoy!
Here are some interesting facts on dates:
– Dates are an excellent source of iron.
– Dates are a good source of potassium.
– Dates are also very rich in minerals like calcium, manganese, copper, and magnesium.
– Dates are rich in dietary fiber.
So next time you are craving candy grab some delicious sweet dates, they are nature's candy.  Throw them into your favorite smoothie or just bring a handful with you during your day for a snack.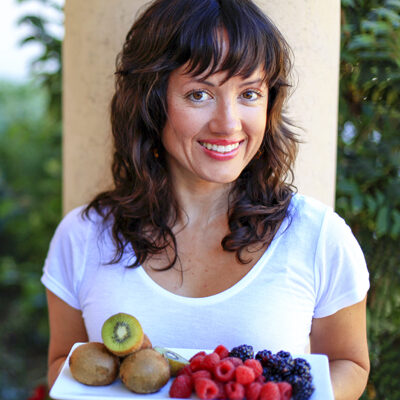 Hi, I'm Christine, thanks for stopping by! As a fibromyalgia thriver (symptom-free for over 10 years now thanks to diet and lifestyle changes), it is my passion to share the healing power of food.
As an RN and Holistic Nutrition Practitioner, it is my desire to empower you to take charge of your life.
Let's journey together to glowing health. Learn More
Your Health Transformation
Starts Here!
Sign up to get FREE healthy lifestyle tips and recipes!