Zesty Tropical Mango Lettuce Wraps
Recently I went to a large dinner party, where I knew there would be little if any raw foods for me to eat. I brought these lettuce wraps and they were a big hit! When I am invited over for dinner, I always in a very gentle manner explain that I am very happy to come but make clear my diet and what I can and cannot eat.  I always then reassure them that as long as there is a big salad, veggies or fruit I will be just fine.  I never want or expect anyone to be put out or feel stressed about what I will eat.  It really has never been a problem thus far.
This time instead of doing that I just offered to contribute  a dish.  By doing so I was comfortable knowing there was something I could eat, and it would be filling and quite delightful too!  This was my first time doing this but it turned out so well I will definitely do it again.  It also was a nice opportunity to introduce others to how beautiful and tasty raw foods can be.  In fact, so many asked me about it and commented on how delicious it was!
I am excited to share this recipe with you, which I know you will LOVE! It can be used as an appetizer (which is what I did), or as a meal.  Even if you are not a rawfooder, you can use lettuce wraps  to replace bread with any combination of veggies cooked or raw.  For those who are gluten-free or are looking to lose weight, using lettuce wraps is a great alternative to a sandwich.
Recipe:
1 large ripe mango, peeled & seed removed
1 small jicama, peeled
1 cup of corn
1/2 small red onion, minced
1 large handful cilantro, chopped
2 Tbs lemon juice
2 small Serrano peppers (seeds removed), diced
1 head butter lettuce (or lettuce of choice)
Spread the individual leaves of lettuce over a platter.  Cut the mango and jicama into small cubes, add into large bowl with the rest of the ingredients and mix well (the longer the mix sits, the more the flavors sink in and it really becomes aromatic and flavorful).
Scoop onto each lettuce leaf as much as you want.  As an appetizer I just put two large spoonfuls.
 Isn't that super simple but so impressive as a dish? It's gorgeous! It's bound to be a hit!  Enjoy. 🙂
Posted in Recipes and tagged with alternative, appetizer, bread, cannot eat, cherry tomatoes, cilantro, combination, confortable, contribute, cooked, corn, delicious, delightful, diet, dinner party, dish, eat, filling, fruit, gluten free, invited, jicama, lettuce wraps, lose weight, mango, meal, Raw, raw foods, rawfooder, rawfoodie, reassure, red onion, replace, salad, sandwich, stressed, tasty, veggies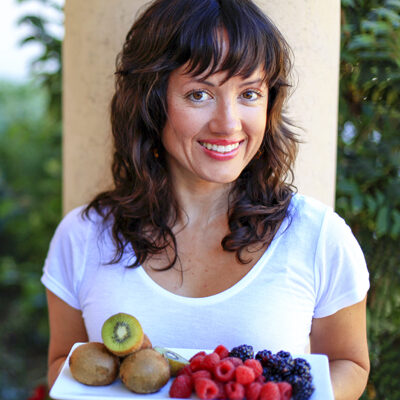 Hi, I'm Christine, thanks for stopping by! As a fibromyalgia thriver (symptom-free for over 10 years now thanks to diet and lifestyle changes), it is my passion to share the healing power of food.
As an RN and Holistic Nutrition Practitioner, it is my desire to empower you to take charge of your life.
Let's journey together to glowing health. Learn More
Your Health Transformation
Starts Here!
Sign up to get FREE healthy lifestyle tips and recipes!