Shredded Rainbow Salad with Tangy Citrus Dressing
This shredded salad is hearty, bright and colorful, packed with flavor and fun to serve! It has been a huge success when I have served it here.  It's one of those vibrant salads that makes for such a nice dish to bring to parties or serve when you have guests.  People are usually attracted to food initially by either the smell or how it looks, so when you make a gorgeous salad platter with lots of colors and flavors it is very attractive to people.
For dinner I like to eat a large vegetable salad.  That's when I try to get my greens and veggies in.  But, lately I have found myself a little bored with the regular green leafy salads. I've been really trying to be more creative so that I look forward to eating my meals, and relish them.  That's very important for success on any diet but especially the raw food diet.
The great thing about this salad is that it's so versatile.  You can use whatever veggies you like and each time have a different variety altogether.  It's amazing how just changing the texture of the salad makes it feel so different and new. Your kids will love it too because it is so colorful and inviting.  In fact, they will have a great time even picking out the vegetables they want inside and helping you prepare.
This is a great salad to pack for lunch, I usually make it the night before and have it all prepared in a BPA-free container and it's ready to go.  The longer it sits the more flavor it absorbs and it doesn't wilt like the regular green leaf salads.
I hope you enjoy this as much as I do!
Serves: 2 as a meal, or 4 as a side
Recipe:
1/2 head  purple cabbage
1/2 head green cabbage
2  carrots
1  beet, shredded
1 zucchini, shredded
1/2 cup sun-dried raisins ( no sulfur, no sugar added)
1/2 cup raw almonds
For the dressing:
1 orange, juice of
1 1/2 lime, juice of (1/3 cup juice)
1/2 lemon, juice of (1/8 cup)
1 handful mint
3 medjool dates, pitted
Put the raisins and almonds in a bowl and set aside. Shred all the above vegetables, in a food processor using the shredder blade.  Combine the shredded veggies with the raisins and almonds. NOTE: If you don't have a food processor you can use a box shredder to shred everything.
Blend in a blender all the ingredients for the dressing together. Pour over shredded salad and toss to mix well.
This salad is just bursting with flavor you are going to love it!
Here are some health facts about cabbage:
– Cabbage is a good source of fiber, and many vital minerals like  manganese, calcium, iron, iodine and potassium.
– Cabbage is a rich source of many vitamins such as B6, thiamine (B1), and pantothenic acid (B5).
– It is a rich source of vitamin E, which is important for healthy skin.
– It is abundant in vitamin C which is an antioxidant protecting the cells against free-radicals, thus preventing premature aging. Interestingly enough, it is richer in vitamin C than oranges.
– Cabbage juice is very helpful in treating ulcers, and digestive problems.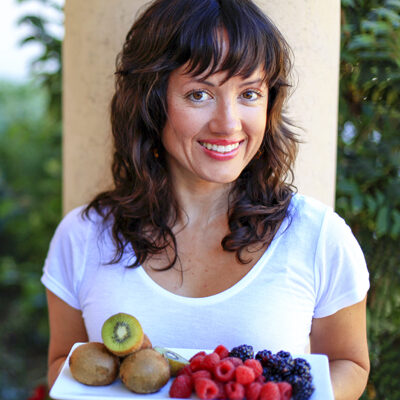 Hi, I'm Christine, thanks for stopping by! As a fibromyalgia thriver (symptom-free for over 10 years now thanks to diet and lifestyle changes), it is my passion to share the healing power of food.
As an RN and Holistic Nutrition Practitioner, it is my desire to empower you to take charge of your life.
Let's journey together to glowing health. Learn More
Your Health Transformation
Starts Here!
Sign up to get FREE healthy lifestyle tips and recipes!