Finally here in Los Angeles today we have a taste of fall.  Waking up to that crisp damp air and cloudy skies, the smell of fall is in the air!  These damp drizzly days just make me want to have warm comfort foods like soup .  So today I made this delicious raw soup, that came out so creamy, light and delicate in flavor it was just what I was looking for.  I love raw soup because with just five ingredients or less and five minutes or less, you can have a really great snack or meal.  You can have it in addition to a nice salad or other meal.
Recipe:
3 long stalks of celery, chopped (leaves and all)
1/4 cup cashews, (soaked overnight drained & rinsed)
1 clove garlic
1 cup water
1 Tbsp fresh fennel
(optional) dash of Himalayan sea salt
Blend all ingredients together in a Vitamix, or any high-speed blender, on high for 3 minutes or until nice and warm.  Pour into a bowl and garnish with fresh herbs or sprouts.
Enjoy!
Here are some interesting health facts about celery:
– Celery is rich in sodium. So if you are avoiding salt, you can add celery to your dish or dried celery flakes for that salty flavor.
– Celery is a very good source of potassium, folic acid, calcium, manganese, magnesium,  vitamin B6 and B1.
– The leaves have five times more magnesium and calcium than the stalks, so don't forget to include them into your meal!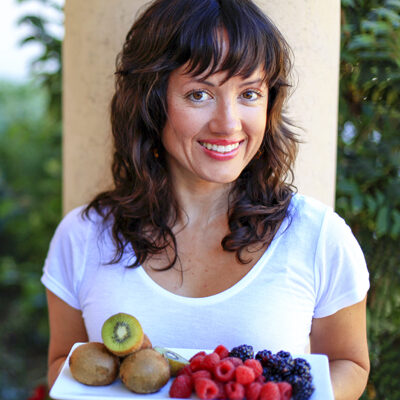 Hi, I'm Christine, thanks for stopping by! As a fibromyalgia thriver (symptom-free for over 10 years now thanks to diet and lifestyle changes), it is my passion to share the healing power of food.
As an RN and Holistic Nutrition Practitioner, it is my desire to empower you to take charge of your life.
Let's journey together to glowing health. Learn More
Your Health Transformation
Starts Here!
Sign up to get FREE healthy lifestyle tips and recipes!