Raw Vegan Coconut Curry Soup
This is a delicious coconut curry soup can be served chilled or warm, and either way it tastes amazing! In the winter time I just love warm soup, and I have tried so many raw soup recipes but they just didn't give me that feeling of excitement to share.  This curry soup recipe had me loving it from the start. It has that kick to it but is savory and sweet at the same time.
Just because it's raw does not mean it's cold.  So often I hear people tell me that they could never do raw foods in the winter because they can't imagine eating cold foods when it's cold out.  Thanks to the Vitamix you can have your soup and eat it too! hehe 🙂 It warms the soup up without cooking the food which kills the enzymes.
The raw food diet does not equal cold food.  So, if you find yourself struggling in the winter make raw soups, warm up your veggies in warm water before shredding or spiralizing them, or take the food out of the fridge at least an hour before preparing it.  I only keep my greens in the fridge, fruit and most vegetables I keep out in large bowls (unless it's super hot out) so my food is rarely cold unless I am making a smoothie with ice.  Enjoy this warm curry soup during the chilly days to come so you can continue enjoying raw foods even during the winter months.
Serves: 1
Recipe:
1 young Thai coconut (the flesh and water of, about a cup of flesh and 1 1/2 cups of water)
1 thin carrot, cut into discs
1 small clove garlic
1.5 tsp galangal ginger root ( or 1 teaspoon of ginger powder if you don't have the root)
2 tsp curry powder
1/2 Thai chili pepper, minced (these can be quite spicy so start with less if you don't want it spicy)
2 Tbsp green onion, chopped
2 Persian cucumbers, julienned to form noodles
1 red bell pepper, cut into match-sticks
1  handful cilantro
1/2 cup water (more or less to desired consistency)
(optional) 1/2 Tablespoon lemon juice
(optional) 1 medjool date, pitted
NOTE: I put optional for the above two ingredients because this soup really is good both ways, with and without them, however they do go together so it's best to either use them both or leave them both out.
Fill a medium size bowl with the bell pepper, cucumber noodles and cilantro.
Blend the rest of the ingredients in the blender. If you want warm soup blend for about 2 minutes, otherwise blend until creamy, pour over vegetables and serve room temperature.  Garnish with cilantro.
Enjoy!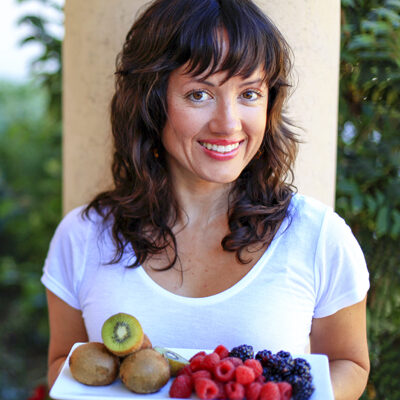 Hi, I'm Christine, thanks for stopping by! As a fibromyalgia thriver (symptom-free for over 10 years now thanks to diet and lifestyle changes), it is my passion to share the healing power of food.
As an RN and Holistic Nutrition Practitioner, it is my desire to empower you to take charge of your life.
Let's journey together to glowing health. Learn More
Your Health Transformation
Starts Here!
Sign up to get FREE healthy lifestyle tips and recipes!