Raw Vegan Orange Creamsicle Smoothie
Growing up I remember going to Orange Julius for their Orange Julius smoothie.   I hardly remember what it tastes like now but I sure remember it was a treat back then.  No where near healthy I'm sure.  But I loved the orange creamy mix, and from time to time still crave  a creamsicle smoothie.
When I want something really creamy like that I turn to Young Thai coconuts. I just love coconuts and fresh coconut water is so thirst quenching and it has so much health benefits that I make it part of my diet daily.  And it really gives this orange creamsicle that creamy texture it needs!
This orange creamsicle smoothie is so simple.  With just a few ingredients you can have a dessert in a glass.  Kids really love this one! With no added sugar, dairy-free, no chemicals or artificial flavors why wouldn't you choose this for your kids over any syrupy sugary drink that you would over pay for at any fast food restaurant?
Like any smoothie you can easily turn this into a green dessert smoothie simply by adding some spinach, kale, Romaine lettuce or any green of choice.
Servings 1
Recipe: 
1 young Thai coconut ( water and meat of)
1 orange, peeled
3 oranges, juice of
1/4 tsp pure Vanilla
1/4 heaping tsp cinnamon
1/2 cup ice
Blend the coconut meat and water together until it makes a milk consistency.  Add in the rest of the ingredients and blend until creamy.
So entice your guests, kids, family and yourself to eat healthy with this ridiculously simple, delicious, orange creamsicle smoothie! Start your day off on the right foot!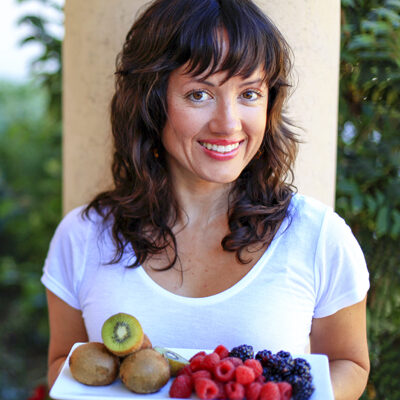 Hi, I'm Christine, thanks for stopping by! As a fibromyalgia thriver (symptom-free for over 10 years now thanks to diet and lifestyle changes), it is my passion to share the healing power of food.
As an RN and Holistic Nutrition Practitioner, it is my desire to empower you to take charge of your life.
Let's journey together to glowing health. Learn More
Your Health Transformation
Starts Here!
Sign up to get FREE healthy lifestyle tips and recipes!