No Bake Red Velvet Cake Bites
I have a treat for you! These red velvet cake bites are my latest love (food) affair and I canNOT wait to share them with you!  They're low in fat so you can literally eat as many as you want and only need 5 EASY ingredients and just 10 minutes of your time. They're perfect as a snack, guilt-less dessert or even breakfast. They're made with only whole ingredients, no added sugar, they're gluten-free, oil-free, nut-free, and need no baking or huge mess to clean up afterwards. How much easier can it get? I also made a video showing you step by step  how to make them (see the link at the end of the post).
The great thing about this recipe is that it's a delicious way to use your left over juice pulp. I juice a lot and am always looking to make use of the pulp left cause it's such a waste throwing it out. Well, actually I compost it but still…  Anyway, if you don't have beet pulp you can finely shred it using a box grater, just make sure it's not too moist.
Beets are a wonderful fibrofighter food and I use them often. They're filled  with powerful anti-inflammatory and detoxifying properties for those who have fibromyalgia or other chronic inflammatory conditions.  If you're not a fan of beets don't worry  you won't taste that earthy beet flavor that can be overpowering. They really add a nice sweetness along with their gorgeous purple color. 
I'm so in love with the color it's simply stunning! I've shared these with my friends and they all loved them.  These are great for kids cause not only are they yummy but they're attracted to their bright color.
For a variety I rolled them in few different flavors: coconut, cacao nibs and carob but you can use any flavor you like even cinnamon or cacao powder, crushed nuts, etc.. I have to say my favorite was the coconut flour and next was the cacao nibs.  But, if you want to serve them for guests they look so pretty in all different colors.
These will last in the fridge for about a week but I'm pretty sure they won't last that long in your house, they're way too delish! What I love about these bites is that they're different from the usual date balls I make because they have a sorta cake texture. I used coconut flour, (which is just coconut shreds ground in a coffee grinder to make a flour), giving it that cooked texture which I'm absolutely loving. It's been a really nice change.
Lately I haven't been in the mood for sweet things so these aren't super sweet, if you prefer sweeter just add more dates. Since I eat so much fruit during the day I literally don't crave sweet things, which is amazing cause I used to always want something sweet after I ate.  So, if you often have a sweet tooth try eating more fruit during the day.
So I've just chatted away, in excitement of sharing these with you time to share the recipe already! 🙂  Here you go:
Makes 20 balls
Recipe:
1 2/3 cup beet pulp
1/2 cup coconut flour
1/2 cup buckwheat flour (see note below)
2 cups pitted moist dates, (if they're not moist soak them in water until soft, about 20 minutes)
1 tsp vanilla extract
(optional) 1/4 cup coconut flour for dusting the bites.
Directions:
1) To make the coconut flour, grind the shredded coconut in a coffee grinder or blitz them in a blender. 2)Repeat the same for the buckwheat flour. 3)Blend all the ingredients in a food processor and pulse blend until it becomes a sticky dough-like texture. 4) Scoop out tablespoon size and roll into balls. optional 5) Roll in coconut flour.
NOTE: I usually soak the buckwheat in pure water for 2+ hours, then drain and rinse well cause they will get a slimy coating that needs to be thoroughly rinsed off. Spread the kernels out on a teflex sheet in the dehydrator and  dehydrate them for 2 hours on 105 degrees (or until crunchy). If you don't have a dehydrator you can either dry them in the oven on the lowest temperature possible or just skip the soaking step altogether. (Soaking helps increase nutritional value and digestibility).
I hope you enjoy these and get to share them with your friends and family! And when you do make sure to share them with me too on Instagram using the hashtag #justglowingwithhealth, or posting them on my Facebook page.  I love to see your photos!
To watch the video of this recipe in the making click here.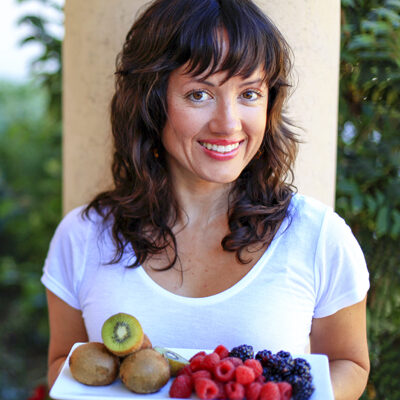 Hi, I'm Christine, thanks for stopping by! As a fibromyalgia thriver (symptom-free for over 10 years now thanks to diet and lifestyle changes), it is my passion to share the healing power of food.
As an RN and Holistic Nutrition Practitioner, it is my desire to empower you to take charge of your life.
Let's journey together to glowing health. Learn More
Your Health Transformation
Starts Here!
Sign up to get FREE healthy lifestyle tips and recipes!