Guest Post: Day 11 Raw Food Challenge + Hearty Breakfast Bowl Recipe
Since I am away from home and just lounging around with Gramma today, my menu hasn't been too creative.  I will say that bringing your own Raw Nuts, Medjool Dates, Raw Almond Butter and some Raw Coconut Nectar has made it possible to make treats and meals that even tempted my Omnivorous Family. It has also enabled me to keep my protein intake high.
Generally you can get salads, veggies and fruit anywhere you go. It's the Raw Nuts and specialty items that are a bit harder to track down. So keep that in mind when traveling.
This morning I made another Nutmeal breakfast bowl. I decided that these Nutmeal breakfast remind me of a cross between Muesli and Oatmeal. I happen to like both of those things so it's a win-win situation.
Nutmeal Recipe:
Apricots (2 pitted and chopped)
Nectarine (1 pitted and chopped)
Blueberries (1/4 cup)
Walnuts (1 Cup)
Coconut (1/2 cup dried and shredded)
Ginger (2 inch hunk peeled)
Cinnamon (1 tsp)
Raw Coconut Nectar (1 TBS)
Threw in the Food Processor until it was roughly chopped. Divided into 2 bowls, drizzled almond milk and coconut syrup over.
Gramma insisted we go to lunch again today. I ordered a Green Salad and a side of Guacamole for lunch. There was salsa on the table already so I used that for the dressing.
I napped a lot yesterday and today. The road trip took a lot out of me. When I woke up from my nap today I made a big bowl of "ice cream".
Frozen Green Figs (5)
Banana (1 it would be best if frozen)
Almond Butter (2 TBS)
Cinnamon (1 tsp)
Almond Milk (1/2 cup)
Raw Coconut Nectar (2 TBS)
Blueberries (1/2 cup)
First put the Almond Milk, Cinnamon,  Coconut Nectar and Almond Butter in the Blender and blend ingredients together.
Then add the Figs and Banana and blend til creamy smooth.
Divide into 2 serving dishes and top with Blueberries.
Gramma thought it was pretty good.
Find Heather on Facebook, Instagram, Pinterest and Twitter @hpesthetics. For more information on TSA/RSS, check out www.itsan.org, the International Topical Steroid Addiction Network. You can also read about Heather Petersen's experience at: www.eczemancipated.com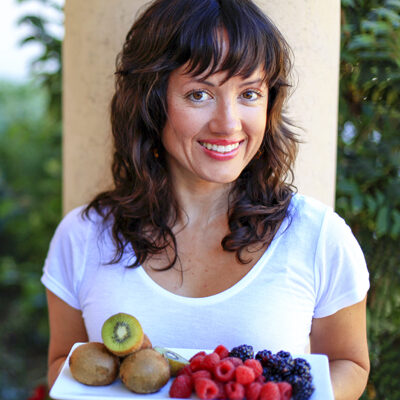 Hi, I'm Christine, thanks for stopping by! As a fibromyalgia thriver (symptom-free for over 10 years now thanks to diet and lifestyle changes), it is my passion to share the healing power of food.
As an RN and Holistic Nutrition Practitioner, it is my desire to empower you to take charge of your life.
Let's journey together to glowing health. Learn More
Your Health Transformation
Starts Here!
Sign up to get FREE healthy lifestyle tips and recipes!