Broccoli Salad with Lemon Tahini Dressing
This broccoli salad is one of my go to recipes when I am craving something savory. There's a bit of sweet, sour and savory going on and that just hits the spot. My gauge for rating recipes is usually my very picky Italian husband as you've probably heard me mention before (I say that with lots of love and affection hehe). When he likes one of my raw food recipes I know its good!
The last time I made this I was starving and had just gotten home. I didn't even have time to finish the salad because something came up and I had to leave.  I asked my husband to put it in the fridge for me til I came back and low and behold…when I came back it was gone!
He proudly admitted he had eaten every last bite of it and LOVED it.  He just knew for sure that I would be happy since I'm always trying to entice him to eat my raw food dishes. So yes I was happy but…I was really craving that salad and had just used up the last of the ingredients.  But hey I found a recipe my husband loves so it was all worth it!  And if he loved it I know you will too!
It literally takes under ten minutes to make and this is another great salad to make the night before and bring it to work with you the next day.  After all the longer it sits the more flavorful it will be. I even make cabbage or lettuce wraps out of it to get more greens in.  I literally just take a large cabbage or lettuce leaf and fill it with the broccoli salad and eat it as a wrap.  It's great! You could also eat it on a bed of greens like spinach or arugula.
As a nurse I only get a half-hour lunch break so I need nurse-friendly fast, easy meals to take with me.  This is one that works great for me.  If I'm making wraps with it I will pack several leaves of cabbage and store them in one container or zip-lock bag and bring the salad in a separate container.
Serves 1
Salad:
1 small/medium head of broccoli, cut into florets
1 handful of  dried, unsulphured tart cherries ( I get them from my farmers' market, or Whole Foods)
1 small handful of raw sunflower seeds
1/4 cup red onion chopped
Lemon Tahini Dressing:
2 tablespoon raw tahini
1/2 lime, juice of
1 tablespoon lemon juice
1/2 teaspoon garlic
1/8 teaspoon chili flakes
2 teaspoons coconut amino's
optional add water for desired consistency
Place the salad ingredients into a medium size bowl and set aside.  In a mini food processor blend until creamy and smooth the ingredients for the dressing.  Pour over the broccoli salad and mix in well.  The longer it sits the more flavorful it will be.
Buon appetito!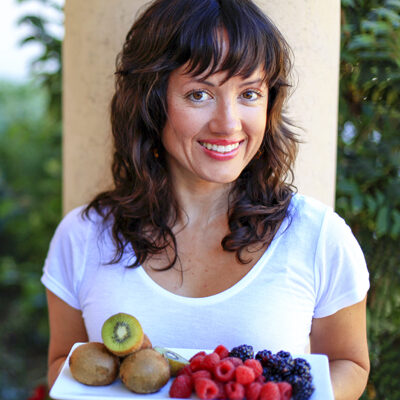 Hi, I'm Christine, thanks for stopping by! As a fibromyalgia thriver (symptom-free for over 10 years now thanks to diet and lifestyle changes), it is my passion to share the healing power of food.
As an RN and Holistic Nutrition Practitioner, it is my desire to empower you to take charge of your life.
Let's journey together to glowing health. Learn More
Your Health Transformation
Starts Here!
Sign up to get FREE healthy lifestyle tips and recipes!