One thing I love about the raw food diet is how vibrant and alive the colors of the food are.  You just can't help feeling happy and excited as you eat your food.  It is so important to eat all the colors of the rainbow, so I always try to add a variety of shades to my meals.  Each different color has its own unique nutritional benefits for our health.  These cabbage wraps are the essence of that, thus the name rainbow wraps. They are filled with all the colors of the rainbow and all the variety of their flavors from sweet to salty and tangy.  It makes for quite the robust flavor.
 Just look at these gorgeous cherry tomatoes.  As you bite into one the savory salty juice just overflows in your mouth. The red colors contain a natural pigment called lycopene, which has been found to reduce some cancers, heart disease and are overall disease fighters!
This rainbow veggie salad is an awakening to your taste buds on all levels.  Nothing like the addition of aromatic  fresh herbs, especially my favorites basil and cilantro!
You can use any green leafy vegetable as the wrap, but I love this purple cabbage because it just makes the colors pop. The purple color contains the plant pigments called anthocyanins, which is an antioxidant, and helps protect our cells from damage.  They  keep our brain healthy and help protect from Alzheimer's disease.
The orange/yellow colors are from the plant pigment called carotenoids.  Carotenoid-rich food has been found to reduce risk of certain cancers, heart disease, and boost our immune system.  These foods are rich in vitamin A, which is important for the health of our skin, hair and eyes.
I always try to include leafy green vegetables everywhere I can, from my green smoothies to wraps and salads.  Dark green vegetables tend to be the most nutrient rich. The green color comes from the plant pigment called chlorophyll. They contain high amounts of phytochemicals that are important for good eyesight.  Dark greens are rich in calcium, fiber, antioxidants, vitamins and even protein.
I love dipping these cabbage wraps into my spicy chili mango sauce….my mouth is water just thinking about it!
Recipe:
1/2 batch of spicy mango chili dipping sauce
1 small head of purple cabbage, 3 leaves chopped and the rest set aside for the wraps
1 large red bell pepper, cut into match sticks
1 carrot shaved
1 handful basil, chopped
1 handful cilantro, chopped
1 cup cherry tomatoes, sliced
1 large cucumber, chopped
1/2 lime, juice of
Mix all the above ingredients (except for dipping sauce) into a large bowl and toss well.  Pour dipping sauce into a small bowl.  Fill each cabbage wrap with the rainbow veggie salad and dip as desired into the spicy mango sauce.
Enjoy with slow conscious bites and take in the moment of rich savory flavors!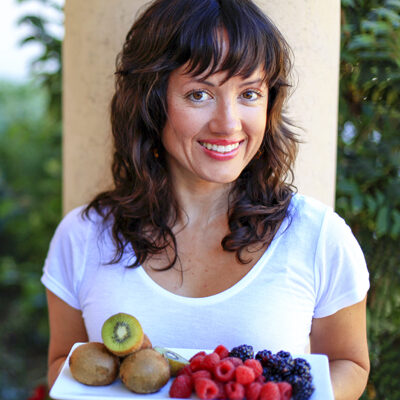 Hi, I'm Christine, thanks for stopping by! As a fibromyalgia thriver (symptom-free for over 10 years now thanks to diet and lifestyle changes), it is my passion to share the healing power of food.
As an RN and Holistic Nutrition Practitioner, it is my desire to empower you to take charge of your life.
Let's journey together to glowing health. Learn More
Your Health Transformation
Starts Here!
Sign up to get FREE healthy lifestyle tips and recipes!