Persimmon Pomegranate Salad with Lemon Tahini Dressing
This fall salad is so full of mouth watering flavors, textures and gorgeous colors that it is pleasing not only to the taste-buds but to the eyes and even more importantly to the stomach.  Using fall flavors like persimmons and pomegranates, ginger and lemon seriously you cannot possibly go wrong.
I made this salad in a rush for lunch out of just the little fruit and greens I had left in the house and it's turned out to be literally one of my favorite salads.  It's so funny how sometimes I go out of my way trying to plan the perfect recipe and yet many of my favorites are those concocted at the last-minute and kinda just thrown together..does that ever happen to you?
I recently made this for my mom, cause she's been getting bored with her salads, and her eyes lit up as she bit in to the burst of flavors from the tang of the juicy pomegranate seeds, to the sweet ripe persimmon, the bitter endive leaves balancing out the  sweetness and not to mention the creamy nutty tahini dressing.  Tahini is my favorite dressing for salads cause it's so easy to blend together with herbs and spices to create such a tasty, creamy dressing with no salt or oil even needed.
Eating a diet rich in raw fruits and vegetables is  key to keeping flare-ups from my fibromyalgia at bay. High fiber, vitamin rich foods like these, with no added sugars, salt, preservatives or chemicals feed your cells the highest quality nutrients to fight inflammation, pain and fatigue.
One of my favorite fibro-fighter foods is turmeric.  I use it in everything.  I add it to my smoothies, juices, and salad dressing like this one.  It has powerful antioxidant and anti-inflammatory benefits.  In fact, studies have shown it's effects to be comparable to hydrocortisone and NSAID's like Motrin.  Unlike pain medicine turmeric can help to reduce inflammation naturally without the side effects.
Servings 1
Recipe:
1 head of Romaine heart, chopped
2 heads of heart of endive, chopped
1 pomegranate, seeds of
2 Fuyu persimmons sliced, tops removed
1 Tbsp raw pumpkin seeds
1 Tbsp hemp seeds
Place above ingredients into a medium size bowl.
Dressing:
2 Tbsp raw tahini
1 Meyer lemon, juice of
1/4 tsp turmeric
1/4 tsp packed grated ginger
2 Tbsp water
Blend in a mini food processor until smooth and creamy.  Pour over the salad and mix well.
Note: Add more spice, water, fruit as desired.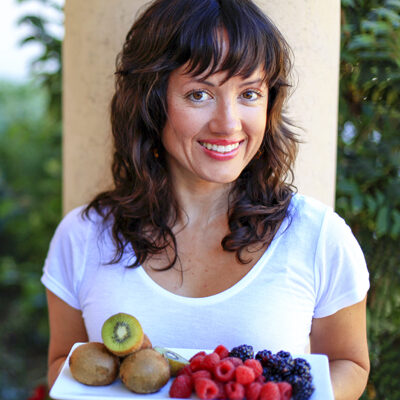 Hi, I'm Christine, thanks for stopping by! As a fibromyalgia thriver (symptom-free for over 10 years now thanks to diet and lifestyle changes), it is my passion to share the healing power of food.
As an RN and Holistic Nutrition Practitioner, it is my desire to empower you to take charge of your life.
Let's journey together to glowing health. Learn More
Your Health Transformation
Starts Here!
Sign up to get FREE healthy lifestyle tips and recipes!