Anti-Inflammatory Cherry Pitaya Smoothie Bowl
Normally in the morning when it comes to breakfast I'm on the run. It's usually a smoothie (or juice) to go in a large mason jar.  I've been on the raw food diet now almost four years now and I never get tired of smoothies for breakfast.  But, sometimes there's just something about having that added texture to really chew instead of just drinking it down.  Do you know what I mean?
You're probably asking what is Pitaya? I would've asked the same thing before Pitaya Plus sent me some of their raw, organic Pitaya smoothie packs to try.
Pitaya is more commonly known as dragon fruit. It's  usually a deep pink or red color on the outside.  You can see from the photos below how it adds that amazing looking electric pink color to your smoothie. Who doesn't love eating vibrant, beautiful food? It's so much more fun eating electric colored food!It has a very mild flavor with a subtle sweetness, so it kind of takes on the flavor of whatever stronger flavored fruit you add too it.
Some of the nutritional benefits of pitaya are: antioxidants, magnesium, fiber and B vitamins.
This pitaya smoothie bowl is just that…a smoothie in a bowl.  You can add whatever you want on top, as much fresh fruit, dried coconut, mulberries, fresh herbs like mint, cacao nibs, nuts or seeds.  It's so filling and it may seem so simple but just changing your smoothie from a jar to a bowl adds a whole new variety to breakfast.  So, if you find yourself getting tired to your regular 'ole smoothie don't turn to cereal or toast just yet.  Give this a try!
Growing up I used to love cereal with milk for breakfast, and while I don't miss those exact foods I miss the substitution of something like that.  This smoothie bowl gives me that  cereal satisfaction that I've been looking for.
This smoothie bowl has great anti-inflammatory properties thanks to the cherries and cranberries. Cherries have been shown to help significantly reduce inflammation and pain, and tart cherries in particular have "the highest anti-inflammatory content of any food" according to studies. So not only is it a luscious, gorgeous smoothie but it's also a potent fibro-fighter meal helping to fight pain and inflammation naturally.  Food is medicine and you can improve your fibromyalgia with diet.  I did!
Makes 5 cups
Recipe:
1 Pitaya pack,
1/2 cup frozen cherries
3 ripe bananas
1/4 cup fresh cranberries
1/4 small beet, (if organic no need to peel the skin)
3/4 cup water
Directions: 1) Blend above ingredients in a blender on high until creamy. 2) Pour into a bowl and decorate with lots of fruit. 3) Enjoy!
I topped mine with a banana, pear, shredded coconut, cacao nibs, and sunflower seeds. Other options are: fresh fruit of choice, dried coconut, mulberries, fresh herbs like mint, cacao nibs, granola, nuts or seeds.
NOTE: If you don't have a pitaya pack you can use 1/2 of a fresh pitaya fruit, or substitute it with fresh or frozen berries of choice. If you don't have fresh cranberries you can use frozen. Also, if you're not a beet lover start off with a small chunk and taste before adding more, but you really don't taste the beet in this recipe.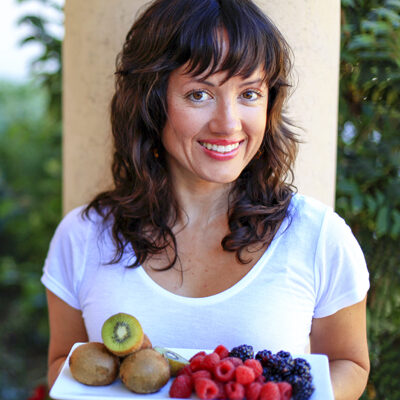 Hi, I'm Christine, thanks for stopping by! As a fibromyalgia thriver (symptom-free for over 10 years now thanks to diet and lifestyle changes), it is my passion to share the healing power of food.
As an RN and Holistic Nutrition Practitioner, it is my desire to empower you to take charge of your life.
Let's journey together to glowing health. Learn More
Your Health Transformation
Starts Here!
Sign up to get FREE healthy lifestyle tips and recipes!