On the raw food diet there are so many alternatives to milk.  There are nut milks, seed milks, and coconut milk.  They are all delicious but the nut and seed milks especially need a high-speed blender to really get that creamy smooth texture.  So another delicious, easy alternative is banana milk.  You don't need any fancy blender and you literally can make it in 30 seconds. It is creamy  like milk and you can add extra flavors like cinnamon or vanilla to really make it even tastier.  I use this as "milk" for my cereals and it works like a charm.  I also use it as a creamy drink for extra calories during the day.  You can even use it as the base of your smoothie to give it that "milkshake" texture.
Recipe:
4 ripe spotted bananas
1 cup water (more or less for desired consistency)
Cut the bananas into chunks and blend with water until smooth and creamy.
(optional) You can add dates to make it even sweeter.
Banana facts:
– The best time to eat bananas is when the skin is bright yellow with brown speckles because the starch has changed to fruit sugar and the fruit will be sweet and easy to digest.
– Bananas are a good source of potassium.  Potassium is essential for proper muscle contraction, and proper functioning of the heart and nervous system.
– Bananas have all the essential amino acids and one medium banana contains 1.29 grams of protein.
– Bananas are one of the highest sources of naturally available vitamin B6, which is essential for healthy immune system function, protein production and blood sugar maintenance.
– Bananas are rich in iron rich helps with hemoglobin production, which naturally helps with anemia.
– Bananas are rich in fiber that helps regulate the bowel functions.
Bananas are great as a snack or as a meal on the go because you can carry them wherever you go and they are prepackaged. 🙂  Whenever I am on the go I take several bananas with me to for a meal or a snack and no mess to clean up after, just discard the peel!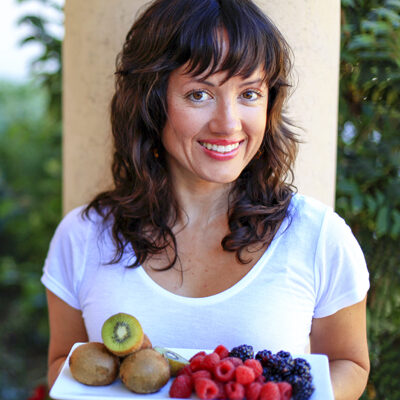 Hi, I'm Christine, thanks for stopping by! As a fibromyalgia thriver (symptom-free for over 10 years now thanks to diet and lifestyle changes), it is my passion to share the healing power of food.
As an RN and Holistic Nutrition Practitioner, it is my desire to empower you to take charge of your life.
Let's journey together to glowing health. Learn More
Your Health Transformation
Starts Here!
Sign up to get FREE healthy lifestyle tips and recipes!