Raw Vegan Mango Fruit Tarts (Nut-Free & GF)
These Mango Tarts are one of my favorite desserts to whip together.When I've served them to guests they've loved them and I know you will too. The best part is not only is it a satisfying treat for when you're craving something sweet, but it's totally guilt-free!
If you suffer from from allergies not to worry it's gluten-free, dairy-free, grain-free and nut-free! It's low in fat and has no refined sugar. On top of that it requires no baking.  I really believe in having my cake and eating it too! 🙂  Can it get any better than that. 
Occasionally I'll hear people telling me how I'm missing out being on the raw food diet. I chuckle to myself. I mean just look at these tarts does it look like I am missing out? Not to mention, what other diet can you actually have dessert for a meal, eat until satisfied and not have to worry about fitting into your jeans after, or feeling  just plain guilty afterwards?
This mango tart recipe is just one of many delicious, simple recipes from my 21 Day e-book program called '21  Days to GLOW'. If you're new to the raw food diet or looking to curb your cravings, feel and look your BEST this program is for you. Best part is, it takes you step by step to ensure your SUCCESS! Why wait any longer when you can start feeling better NOW, head over to the link above to get started in taking charge of your HEALTH today!
These mango tarts can literally be put together in less than ten minutes and with only FOUR ingredients! So when in a pinch for time if you want to create a dessert that'll please both aesthetically and to the belly you can whip this bad boy up and nobody will know you threw it together in just minutes. If you want to do a little extra step you can freeze it for an hour so it firms up a bit. Either way it makes for nice presentation when serving it to guests.
If mangoes aren't in season for you or you prefer a different fruit you can easily substitute the filling with any fruit of choice Just make sure to blend it with a creamy fruit like banana along with whatever fruit you choose, to keep the filling creamy.
On the raw food diet eating so much fruit has completely cured my sweet tooth. I'm amazed how sugar and sweets don't tempt me anymore. The only cravings I get are for savory. That's because I'm fueling my cells with their primary food, glucose and fructose form the fruit. I don't worry about the sugar from fruit because it's filled with fiber, vitamins and minerals that slow the absorption down. It absolutely cannot be compared to white processed sugar and it's damaging effects. In fact, every year I get my blood tests done, my sugar levels are all perfectly normal. So no need for fruit phobia!
What better dessert to feed your children with than a 100 percent real fruit filled tart. All fresh, natural, preservative and chemical-free ingredients.  With kids growing bodies and growing immune system they should not be filling their little bodies with toxic, chemical filled, nutrient depleted sugar.  They need all the vitamins, minerals and nutrients to support their growth.
Servings 2 4×4 tarts
Recipe:
Crust:
5 medjool dates, pitted
1/2 cup dried apricots (these need to be soft if needed soak in minimal amount of purified water, for 15 minutes or until soft).
3/4 cup dried shredded coconut
To make the crust:
1) Put  above ingredients in a food-processor and pulse blend until it becomes a coarse sticky mix.  Be careful not to over process. Scoop the mix into the two tart molds press evenly into the molds making sure to press the sides up high. Place in the freezer for about 30 minutes.
Filling:
1 ripe ataulfo mango, peeled, flesh scooped out into a blender
To make the filling:
1) Blend the mango until smooth
2) Take the crusts out of the freezer and pour in the mango filling evenly into each mold
3) Put back into the freezer for 45 minutes
4) Take out of the freezer and (optional) top with berries
5) Take out of molds and serve
Take a moment to sit relax and enjoy each bite with a smile!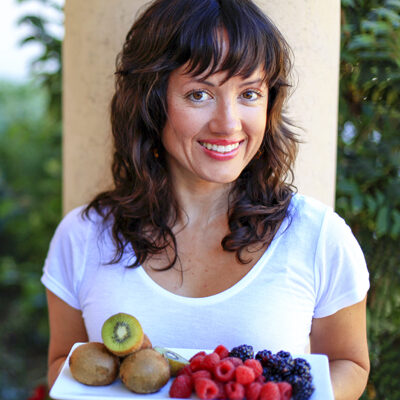 Hi, I'm Christine, thanks for stopping by! As a fibromyalgia thriver (symptom-free for over 10 years now thanks to diet and lifestyle changes), it is my passion to share the healing power of food.
As an RN and Holistic Nutrition Practitioner, it is my desire to empower you to take charge of your life.
Let's journey together to glowing health. Learn More
Your Health Transformation
Starts Here!
Sign up to get FREE healthy lifestyle tips and recipes!