No Bake Gingerbread Truffles + Week Two Raw Food Challenge
I'm so excited to share these gingerbread truffles with you! I have to say they came out ah-mazing, if I do say so myself. 🙂 I've been working in the kitchen tweaking this recipe over and over again until they came out just right.  I even brought them into work with me to have all my co-workers try them and I got the nurses stamp of approval! So, now I know they are ready to share with you.
I love ginger,  it is such an aromatic, warming spice I especially love it in the winter.  Ginger is such a powerful medicinal herb I like to add it into as many recipes as I can.  Having some of the most potent anti-inflammatory properties known, ginger is important for ones like me who have fibromyalgia or chronic pain.  And while I rarely suffer from painful flare-ups, I want to keep it that way!
Back to the gingerbread.  These truffles are moist and full of flavor.  Biting into one took me back to when I was younger and I would eat gingerbread cookies dunking them in tea.  Oh how I loved that! These really have that aromatic kick of ginger, with the robust flavors of  molasses, cloves and cinnamon.  It makes for a wonderful treat.
I have only recently discovered coconut sugar by Navitas Naturals.  I saw it at WholeFoods and decided to give it a try.  I wasn't sure what to expect, but what a pleasant surprise! It's the perfect "sugar" to use when you want that sweet granule texture, which is exactly what I wanted to coat the truffles with.  And it really tops this recipe off perfectly! It gives these truffles a nice little extra texture as you're biting into them.
These make for a sure success at a party.  You can lay each one in a fun cupcake wrapper, or put toothpicks out so you can just pop them in your mouth.  They are so easy to pack in a lunch and they're perfect for kids.  You can double the recipe and freeze them, and just pull them out when needed.  Stored in the fridge they can last a week.  But they are so good I have never had them last that long! 🙂
Now to catch you up with me.  As you know I'm doing a fourteen day 100 % raw food challenge to start the year off right, this is the second week and there are only three days left.  It's been going really well, the only time I felt like giving into temptation was when I went to Whole Foods starving.
It's dangerous to go to the grocery store when you're starving! I passed by the open buffet of cooked foods and got a whiff, I almost did a double take just to drool a little but decided not to torture myself.  Thankfully, right across the aisle was the raw food section so I went straight over there and treated myself to some kale chips.  That put me back on track immediately.  LOVE kale chips! Besides when I get a quick craving like that, I try to fast forward in my head to after having eaten the food and imagine how I will feel. I've come to realize that I never feel good afterwards and it is never worth the cheat.
So back to the gingerbread recipe…here it is:
Makes 20 bite size balls
Recipe:
7-8 medjool dates, pitted
1 cup pecans, soaked for at least 2 hours drained and rinsed (make sure they are drained well and pat dry with paper towel to remove excess water)
1 1/2 tsp ginger, grated (add more or less to taste)
1/4 tsp cinnamon
1/4 tsp cloves
1 Tbsp molasses
1 shake of cayenne pepper
1/2 cup coconut sugar
1) In a food processor add in all the above ingredients, except coconut sugar,  and pulse blend until it becomes like a ball of dough.
2) Scoop out into a mixing bowl and form little balls (bite-size) .
3) Dip into coconut sugar and  coat evenly each truffle.
With just three easy steps you have a fun, delicious and healthy raw vegan dessert!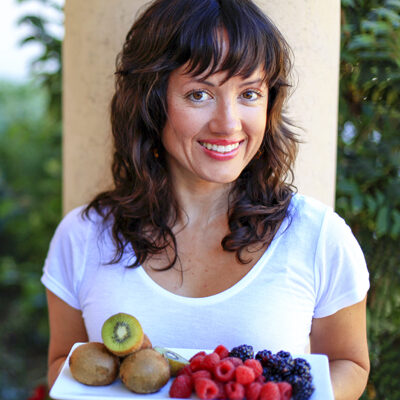 Hi, I'm Christine, thanks for stopping by! As a fibromyalgia thriver (symptom-free for over 10 years now thanks to diet and lifestyle changes), it is my passion to share the healing power of food.
As an RN and Holistic Nutrition Practitioner, it is my desire to empower you to take charge of your life.
Let's journey together to glowing health. Learn More
Your Health Transformation
Starts Here!
Sign up to get FREE healthy lifestyle tips and recipes!