Strawberry Sunrise Smoothie
This fruit smoothie is not only refreshing and sweet, but needs only three ingredients! It truly is a simple, quick, easy, yet nutritious meal or snack for on the go or just to enjoy on a warm summer day.  On an average day I try to keep my meals five ingredients or less.  For several reasons, one being that the simpler the recipe the less time it takes to prepare it and I am all about quick and easy  yet still tasty and nutritious.  The other reason is the less ingredients used the easier it is for the body to digest.  When you keep your meals simple with just a few ingredients, you will find you are not so tired after your meals or bloated nor have that heavy feeling after.  You stay alert and clear-headed to continue on with work or other important tasks during your day.
So, if you ever find yourself having to take a big test or have a big meeting and want to do well for it, instead of eating a big heavy meal that will bog you down mentally and physically, try a nutrient dense meal of just fruit and/or vegetables and you will feel the difference in your performance and clarity of mind.
Remember to chew when you drink a smoothie instead of just drinking it down.  Digestion starts in the mouth, so when you chew the enzymes mix with the food improving digestion.
I don't know about you, but I never get tired of smoothies.  There is an endless variety of tastes, textures and even colors to keep it varied and fun.  Being a nurse and working long shifts many times I like to make an extra smoothie, storing it in a mason jar and bring it to work for when I have a break.  It's just so easy and quick it works out great when you are on a time crunch.
Serves 1
Recipe:
1 Young Thai coconut, (water & flesh of)
2 Navel oranges, juice of
6 large frozen strawberries, (about 1 cup)
Pour into blender in this order: coconut water and orange juice,  meat of coconut, strawberries.  Blend on high until smooth and creamy.
What is your favorite fruit smoothie?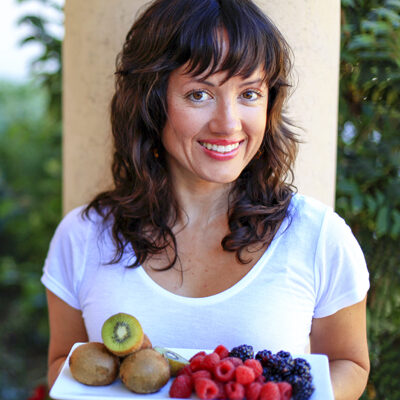 Hi, I'm Christine, thanks for stopping by! As a fibromyalgia thriver (symptom-free for over 10 years now thanks to diet and lifestyle changes), it is my passion to share the healing power of food.
As an RN and Holistic Nutrition Practitioner, it is my desire to empower you to take charge of your life.
Let's journey together to glowing health. Learn More
Your Health Transformation
Starts Here!
Sign up to get FREE healthy lifestyle tips and recipes!