Guest Post: Day 3 +Raw Vegan Ice Cream Sandwich Recipe
Life with Topical Steroid Withdrawals has become much easier to deal with in the last few months. My "flares" have become shorter and farther apart. (Don't forget you can read about my healing journey at www.eczemancipated.com) Due to being Bed Ridden in 2012 and then house bound for most of 2013, I developed some other issues. Due to the atrophy of muscle I somehow twisted my left leg in my hip socket, but because I did very little physical activity I thought the pain was muscle related. By not addressing the sprained hip socket the injury became compounded and I was unable to walk without extreme pain. Thankfully, I eventually got it sorted out and went to physical therapy for a couple of months. Recently I was released to the gym under strict direction from the physical therapist to continue with the exercises given to me. Tomorrow I get to begin working out with a "Post Rehabilitation" Personal Trainer at my gym, Club One Fitness in Scotts Valley. I'm so very excited! Before I became terribly ill I was running a 5K three days a week at my gym. Of course the doctors, therapists and trainer all tell me it will be a couple of years before I can get back to that – but I'm focused on the big picture. The goals keep us alive, I think.
Someone recently reminded me of this expression, "Goals without dates are just wishes". So I don't make wishes – I make goals. I have the goal to run the Bay to Breakers Marathon in 2016. Even if it doesn't happen, having a plan keeps me moving. Tomorrow's personal training appointment is just another step towards the goal. What goals do you have? Maybe a Raw Vegan one???
For now though I'm accomplishing my 30 Day Raw Vegan goal one day at a time. So here is day three…
Day 3 of 30 Day Raw Vegan Challenge
It was 80 degrees in my house when I went to bed last night and 75 degrees when I woke up. It is currently 86 degrees as I type this at 6:00 PM. Here in Santa Cruz there are so few days that the outdoor temperatures are above 80 degrees that many homes do not have Air Conditioning. Ours is one such house. Thus I really have just wanted to consume liquids. Today I made and drank 8 cups of "Orangeade":
Orange (1 whole, peeled & chopped)
+ Juice of 3 Oranges
Dates (1 Cup, pitted)
Purified Water (1 cup)
Blended in Vitamix til smooth, then filled the Vitamix the rest of the way to the 8 Cup mark with Purified water while Vitamix was going at speed 3 to dilute the smoothie into Orangeade. Poured into a 64oz Mason Jar Pitcher and added Orange slices. (Which I ate after finishing the entire pitcher of Orangeade.)
It was getting quite hot as the afternoon peaked and I was sitting at the computer working on bills and a mountain of paperwork. So for Lunch I ate an entire Honeydew Melon (pictured).
Honeydew Melon (1 Medium, peeled, seeded & chopped)
Doug's should be home shortly from work and I will feast on this Green Salad (pictured). I found these really great Raw Vegan (Sun Dried) Black Olives (pictured on Instagram). I LOVE olives of all colors, brined or oil cured. So I was thrilled to find them in the store!
Mixed Baby Greens (1 Cup)
Fresh Salsa (see recipe below)
Celery Sticks (3 chopped)
Sun-dried Black Olives (1/3 cup)
Zucchini (left over "rawsagna noodles" from yesterday, about 1/3 of zucchini)
Avocado (1, peeled, pitted & chopped)
Granny Smith Apple (1 cored and sliced thinly)
Place all items in a bowl. For dressing I squeezed the juice of 1 Meyer Lemon all over it. Super yum!
Treats Time! So my friend Brandy came over yesterday and we made our Frozen Lime Cream on a Chocolate Fig Cookie Sandwiches (pictured here and on Instagram @hpesthetics).  We followed a similar recipe to last year but made some improvements.
To make the Lime Cashew Cream:
Lime Juice (1 ½ cups)
Lime (1 entire lime, peel and all, chopped)
Avocado (1 peeled, pitted and diced)
Hadley Dates (2 Cups, pitted)
Puree in Vitamix until smooth, add more Lime juice if necessary.
Next:
Cashews (4 cups soaked overnight in purified water, then drain and rinse before use)
You will start with by adding 3 cups of Cashews to the Lime Juice Puree in the Vitamix. Using the plunger attachment to help the Cashews along, start the Vitamix on the "Frozen Desserts" setting. ( Medium/High speed on the older Vitamix). It will be quite noisy, so I often use ear plugs so I don't get a headache. HAHA! You may add more Cashews if the texture isn't thick enough. It should be the consistency of Creamy Peanut Butter and be too thick to pour out.
Put the Lime Cashew Cream mixture into parchment or wax paper lined cookie sheets or baking pans. You will want the mixture to be level and about ½ – 1 inch thick.
Place in the freezer for 2-3 hours til mixture is frozen.
While that is freezing you can make the Chocolate Fig "Cookies".
Dried Black Mission Figs (2 Cups, stems off and rough chopped)
Raw Pecans (1 ¼ cup)
Raw Cocoa Powder (1 Cup)
Pink Salt (1/4 teaspoon)
(For a bit of an exotic smokey and spicy flavor, add 1 and 1/2 tsp of Smoked Paprika)
Place all ingredients in the Food Processor on High until the mixture starts to come together a bit. It may or may not form a ball. (Don't worry if it doesn't when you press it together it will form nicely.) Take the mixture and press it out onto a clean dry flat surface. Using a rolling pin, roll it flat til about 1/4 – 1/3 inch thick. Using a cookie cutter to cut out your cookies and be sure to keep a layer of parchment/wax paper between the cookies so they don't stick together.
Place in freezer for about 2 hours.
When the "cookie" and "cream" are thoroughly frozen, pull out of the freezer. Using the same cookie cutter as above, cut out the Lime Cashew Cream into bars. Sandwich the bars between 2 Chocolate Fig Cookies. Just like an ice cream sandwich. Eat it up, yum!
Find Heather on Facebook, Instagram, Pinterest and Twitter @hpesthetics. For more information on TSA/RSS, check out www.itsan.org, the International Topical Steroid Addiction Network. You can also read about Heather Petersen's experience at: www.eczemancipated.com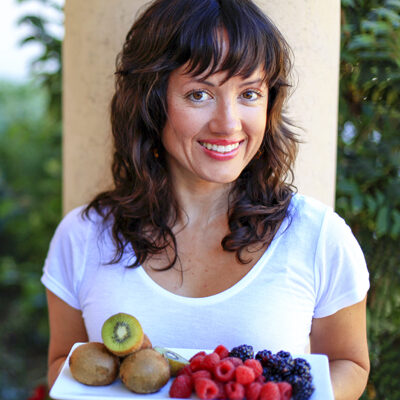 Hi, I'm Christine, thanks for stopping by! As a fibromyalgia thriver (symptom-free for over 10 years now thanks to diet and lifestyle changes), it is my passion to share the healing power of food.
As an RN and Holistic Nutrition Practitioner, it is my desire to empower you to take charge of your life.
Let's journey together to glowing health. Learn More
Your Health Transformation
Starts Here!
Sign up to get FREE healthy lifestyle tips and recipes!