It's literally been years since I have tasted Egg-Nog but this  morning I had a craving for some, or I should say the idea of egg nog.  Something creamy, rich, with warming spices.  Maybe it was the rainy winter day that just called for it.  I just love this time of year.  I should preface that by saying I love this time of year in Southern California because our fall and winter days are sparsed out between hot summer like days so it never is cold here for long.  But the occasional winter day is so exciting when it comes.  I totally admit it I'm a huge wimp when it comes to cold weather, anything under 60 degrees is my idea of a cool winter day! I'm a true Californian what can I say..:)
Anyway, this version is egg and dairy free yet still has that smooth creaminess.   It's sweet and filled with warming fall spices that just make it so soothing. There's  just something about the combination of spices like vanilla, nutmeg, cloves and cinnamon.  You really can't go wrong! It's refined sugar-free so this is the perfect nog to give to your kids this time of year.  Having much less fat and calories than the real thing you can drink as much of it as you like without the guilt.
Here in So Cal we may only get rain a few days of the year but when we do I don't hold back in enjoying it to the fullest.  I bust out the over sized sweaters, comfy blankets, fireplace and cozy on up with a soul warming drink full of winter spice.  I mean it happens so rarely I have to take advantage!  Now this drink is not warm per say but if you wanted it to be you can add warm water instead of room temp, or if you have a high-speed blender like a Vitamix simply blend it for at least a minute or two and you'll have yourself a soul soothing drink.  It makes for such a great comfort drink, so in the days to come when you have family and friends over pour them a glass of creamy Nog and give them a taste of how delicious raw foods can be!
I shared it with my mom who is an egg nog lover and she loved it, in fact she finished off my portion too!  I'm so happy to see my loved ones fill themselves on whole foods that feed and nourish their body.  That is the beauty of raw foods they can tasted indulging but they are secretly sinless creating nothing but GLOWING health bite by bite.  No deprivation here drink up and enjoy!
Servings 5 cups
Recipe:
3/4 cup almonds
3 1/2 cups water
1/3 cup coconut meat (from a young Thai coconut)
1 teaspoon cinnamon
1 teaspoon nutmeg
1/4 teaspoon clove
2 teaspoons pure Vanilla extract
7 medjool dates, pitted
Blend all the above ingredients on high until creamy.  If it's too thick add more water, if it's too thin add more coconut.  Pour into a glass and sprinkle with nutmeg.
NOTE: If you don't have coconut meat you can substitute it with a banana or increase the nuts to one full cup.
Enjoy!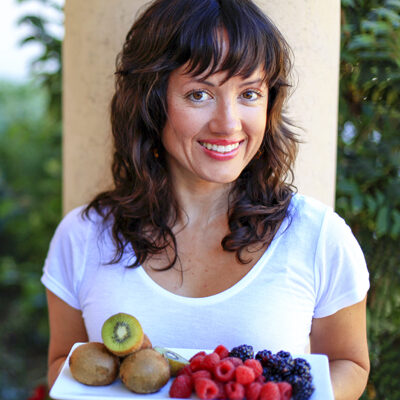 Hi, I'm Christine, thanks for stopping by! As a fibromyalgia thriver (symptom-free for over 10 years now thanks to diet and lifestyle changes), it is my passion to share the healing power of food.
As an RN and Holistic Nutrition Practitioner, it is my desire to empower you to take charge of your life.
Let's journey together to glowing health. Learn More
Your Health Transformation
Starts Here!
Sign up to get FREE healthy lifestyle tips and recipes!