I am so excited to share this recipe with you! It is a superfood recipe, super quick to make and super delicious.  How could you not love that? One of my favorite things in the world to drink on a chilly day is Chai tea.  I love the aromatic spices and how they just seem to infuse me with warmth sip by sip.  There is just nothing like a good Chai tea.  A co-worker of mine recently gave me some cardamom, which is just so deliciously aromatic that I came right home and started experimenting with different Chai recipes.  I may have slightly over did it…nah! 🙂  So I made Chai milk, Chai smoothies and this  chai spiced chia pudding.
Many ask me how I eat being on the run as a nurse with early shifts and on my feet all day.  The answer is I keep it super simple.  I have to do what keeps me sticking with this lifestyle.  If it's not practical, the chances are one won't stick with it.  That is why I love chia pudding. You can easily prepare it the night before, keep it in the fridge and just pack several pieces of fruit to cut on.  You can add nuts or seeds, coconut, cinnamon, goji berries the choices are endless.  I almost always have a large juice or smoothie for breakfast, so for lunch I pack this with a ton of fruit and I am satisfied for literally hours.
The great thing about chia seeds is that they absorb around nine times their weight, so they keep you feeling full longer.  Unlike flax seeds, they do not need to be ground to have the nutrients be available for the body.  They are rich in antioxidants, gluten-free and can be stored for long periods of time without becoming rancid.   It is an excellent plant source for omega-3 fatty acids, in fact chia seeds contain more omega-3's than salmon.  These are just some of the reasons that chia is considered a superfood.
This recipe is so versatile, you can use whichever nut or seed milk you prefer, with fruit of choices and spices of choice.  But if you love chai you will LOVE this! Enjoy! 🙂
Recipe:
2 cups cashew milk (see recipe below)
3 medjool dates, pitted
1/8 teaspoon ginger powder
1/8 teaspoon cardamom
1/8 teaspoon cinnamon
1/8 teaspoon nutmeg
3 tablespoons + 1 teaspoon Chia seeds
For Cashew Milk:
1/3 cup cashews, soaked in filtered water for 6+ hours then drained and rinsed
2 cups filtered water
Blend together in a high-speed blender until creamy and smooth (about one minute)
For the Chia Pudding
1) Blend cashew milk and dates until smooth (for about 30 seconds) or until blended well.
2) Add all the spices and blend for several seconds to mix well.
3) Pour milk into a glass jar adding in the chia seeds. Stir well over a few minutes to keep from clumping.
4) Let sit for at least ten minutes, maximum 24 hours, in fridge.
5) Scoop into a bowl and top with sliced pears and sprinkled cinnamon.
Enjoy!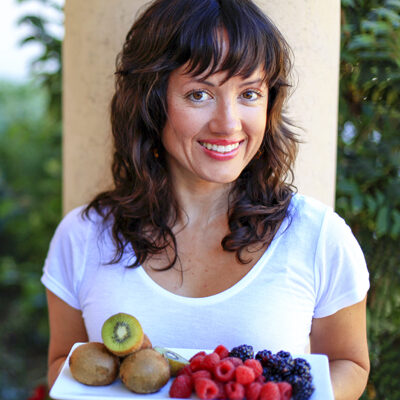 Hi, I'm Christine, thanks for stopping by! As a fibromyalgia thriver (symptom-free for over 10 years now thanks to diet and lifestyle changes), it is my passion to share the healing power of food.
As an RN and Holistic Nutrition Practitioner, it is my desire to empower you to take charge of your life.
Let's journey together to glowing health. Learn More
Your Health Transformation
Starts Here!
Sign up to get FREE healthy lifestyle tips and recipes!