Winter Chopped Salad with Ginger Citrus Dressing
This winter salad is a color fest for the eyes, a taste fest to the mouth and  a great addition to the table that the whole family will enjoy.  It is a hearty salad made with kale, cabbage, and carrots so you can make enough to have leftovers for the next day and it does not wilt or get mushy like regular lettuce would.  In fact, this a favorite for me to bring to work because I can make it the night before pack it up and have it ready to go for the morning rush.  No time lost at all.  It is quite filling so I bring a large portion for lunch and it keeps me feeling fueled for my busy nurse schedule.
The ginger citrus dressing is oil-free and salt-free but has a wonderful tangy kick to it and can be made in literally two minutes. I love to add dried tart cherries to my salads to give that sweet tartness to it but if you prefer you can definitely leave it out or even add raisins instead.
This is another salad that would be great to serve at a potluck.  Everyone, rawfoodie or not, enjoys a beautiful hearty salad so why not ensure that you will definitely have something to eat contributing a dish like this.  Also, if your family does not eat raw with you, this is a great way to make a large portion for yourself but enough that it is part of your family's meal too so that you are preparing all separate meals.
For more salad recipes check out my Rainbow Shredded Salad, Persimmon Apple Kale Salad with Tangy Tahini Dressing, Pomegranate Citrus Brussels Sprouts Salad or the many others that are on this site by clicking on the 'Salad Recipe' tab under 'Healthy Recipes'.
Recipe:
2 cups purple cabbage, chopped
2 cups white cabbage, chopped
1/2 bunch of Dinosaur Kale chiffanauded (finely chopped)
2 carrots shredded
1 handful tart dried cherries
1/2 cup green onions, chopped
Put all the above ingredients in a large bowl and set aside.
For the dressing:
1 1/2 Navel oranges, juice of
1/2  lime, juice of
1 tsp grated ginger
Cayenne pepper, 2 good shakes of
In a small bowl whisk together the above ingredients to combine well, pour over chopped salad mix and toss well.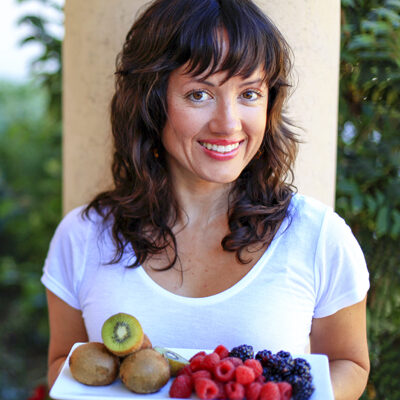 Hi, I'm Christine, thanks for stopping by! As a fibromyalgia thriver (symptom-free for over 10 years now thanks to diet and lifestyle changes), it is my passion to share the healing power of food.
As an RN and Holistic Nutrition Practitioner, it is my desire to empower you to take charge of your life.
Let's journey together to glowing health. Learn More
Your Health Transformation
Starts Here!
Sign up to get FREE healthy lifestyle tips and recipes!