Fruit Loops with Coconut Mylk
This is what I call the REAL Fruit Loop Cereal! I used to love cereal for breakfast, for a snack, or when I didn't feel like cooking it would be Cheerios and berries.  I seriously don't know what it was but I never got tired of it.  Even now once in a while I will get the craving for cereal instead of my usual smoothie in the morning.  This fruit cereal with cold coconut milk totally hits the spot and is so satisfying.  You can use your mylk of choice, there are so many to choose from.  Banana mylk, almond mylk, etc.  The best part of this cereal is that it is refined sugar-free.  Have you ever looked at the back of the box and checked out how much sugar is in most cereals? It's outrageous, not to mention that they are almost all filled with GMO-ingredients, chemicals, preservatives and even coloring.  Really my friend do you want to put any of those things in your body, or much less your child's body? NO!
This breakfast is made for those on the run all you have to do is have your mylk of choice pre made and pour in your fruit it takes a full 30 seconds.  There is always time to eat healthy!  If you really don't have a second to spare in the morning for breakfast at home just bring your mylk in a mason jar and pack up your fruit in a little container and bring your spoon simple as that.  Same for your children.  I know for myself on a busy nurse schedule these kind of quick meals work perfectly.
Recipe:
Banana milk or if you prefer Coconut milk
1 carton of blueberries, raspberries and blackberries
2 bananas peeled and sliced
I think the directions are self-explanatory, lol. 🙂
Benefits of  blueberries:
– Studies on have shown that blueberries have been known to improve learning ability, improve memory ability, and brain function.  For adults experiencing early changes in their memory this can be very helpful.
– Blueberries have the some of the highest antioxidant levels than any other fruit.  In fact, the antioxidants found in blueberries have been shown in studies to slow the aging process and reduce your risk of cancer.
– Blueberries contain resveratrol, a potent anti-cancer agent.
– The richer the color of the blueberry the more potent antioxidants and anthocyanins (color pigment in berries that are powerful antioxidants) in it contains.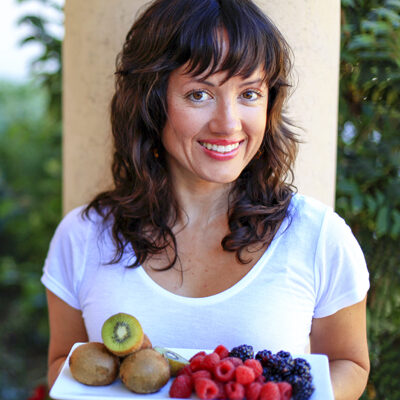 Hi, I'm Christine, thanks for stopping by! As a fibromyalgia thriver (symptom-free for over 10 years now thanks to diet and lifestyle changes), it is my passion to share the healing power of food.
As an RN and Holistic Nutrition Practitioner, it is my desire to empower you to take charge of your life.
Let's journey together to glowing health. Learn More
Your Health Transformation
Starts Here!
Sign up to get FREE healthy lifestyle tips and recipes!