Guest Post: Day 30 + Arugula Peach Avocado Salad
WE DID IT!
Day 30 ☑
Thanks so much for sticking it out with us for the last month. I've had such a good time. Each year it keeps becoming easier and easier to be completely Raw Vegan for a month. I look forward to doing it again next year. But until then, here is my last day's journal. 
Ok all you soon to be Rawstanistas, to all of you I bid Rawdieu! 
DAY 30 of 30 Day Raw Vegan Detox Challenge
 Breakfast was a Nice Cream, Banana Fig:
Frozen Black Figs (5)
Frozen Banana (3)
Raw Peanut Butter (1 TBSP)
Cinnamon (1 tsp.)
Nutmeg (a dash)
Coconut Water (a drizzle or two)
Blend in the Vitamix (You may have to help it a bit with the plunger attachment). Topped it with Shredded Coconut and Fresh Fig slices; to be honest – you don't need any topping with this Nice Cream. It can stand on its own.
I can't remember if I had any snacks today because I did all of my routine items out of order. I believe I just drank a ton of water. 
I made a random dip based on my desire for Baba Ghanoush  and the lack of ingredients so I made a weird spin on Baba Ghanoush and Hummus with Orange juice. It was goodnoush… (Does anyone remember Gary Ganews from The Great Space Coaster? Ok that was random?) We'll call it Eggplant Orange Dip:
Eggplant CHIPS (yup I used all the Eggplant chips I made the other day from 1 Japanese Eggplant)
Orange (juice of 2)
Garlic (1 clove)
Fresh Chives (1 Bunch)
Pink Salt (1/2 tsp)
Raw Tahini (2 TBS)
Cumin (1 tsp-ish)
Blend in a Food Processor til creamy. I used my Cucumber slices to dip in it. It had the Hummus background flavor with the fresh sweetness of the Orange (you could use a little less Orange Juice) and that Eggplant flavor. 
Comment: Lately I've been noticing on other Raw Vegan IGer's posts they have talked about making food from dehydrated vegetables. Since I had all those Veggie Chips I thought why not give it a whirl. I think the dip came out good and a more solid consistency since there was less water from the veggies.
My Dinner was a lovely salad of:
Arugula
Carrots
Avocado
White Peaches
Figs
Cucumber (which I used for the dip)
Find Heather on Facebook, Instagram, Pinterest and Twitter @hpesthetics. For more information on TSA/RSS, check out www.itsan.org, the International Topical Steroid Addiction Network. You can also read about Heather Petersen's experience at: www.eczemancipated.com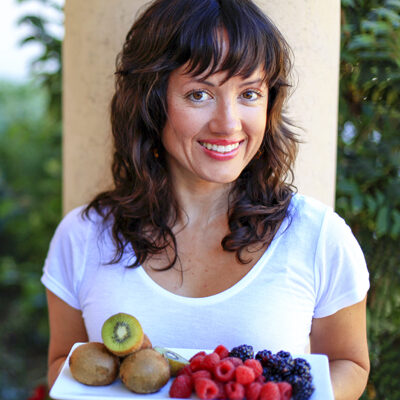 Hi, I'm Christine, thanks for stopping by! As a fibromyalgia thriver (symptom-free for over 10 years now thanks to diet and lifestyle changes), it is my passion to share the healing power of food.
As an RN and Holistic Nutrition Practitioner, it is my desire to empower you to take charge of your life.
Let's journey together to glowing health. Learn More
Your Health Transformation
Starts Here!
Sign up to get FREE healthy lifestyle tips and recipes!