Guest Post: Day 23 RVC + Breakfast Cracker Recipe
DAY 23 of 30 Day Raw Vegan Detox Challenge
Today I made my favorite Creamsicle Smoothie and added 2 cups of Mixed Baby Greens to Green it up. I enjoyed my 32oz smoothie with a nice square of Morning Glory Cake with Lemon Frosting. It was delightful.
After the gym I enjoyed 16oz of fresh Sweet Potato Lemon juice I made yesterday to get the pulp I needed for the cake. My juice was made from:
Sweet Potatoes (2 peeled and chopped)
Lemon (1 ½ peeled lemon)
Throw in Juicer. Pour in a glass and cut it with water. Enjoy!
Later I snacked on a bit of my version of Breakfast Cracker that I made today. 
Breakfast Cracker Recipe:
Raw Buckwheat Groats (1 cup)
Raw Sesame Seeds (3/4 cup)
Raw Flaxseed (1 Cup, grind in spice grinder)
Raw Agave Nectar (2 TBS)
Cinnamon (2 tsp)
Coconut Water (1 cup to start, add a little more if the mixture seems to dry)
Chia Seeds (1/4 cup)
Mix together in a bowl and let sit for ½ hour to bind together. Spread evenly ¼ inch layer onto a parchment paper lined Dehydrator tray. Place in the dehydrator at 110 degrees Fahrenheit for 4 hours. Gently flip the Cracker over and peel the parchment paper away. Score lines into the Cracker. Discard parchment paper. Return Dehydrator tray to the Dehydrator for another 4 hours or until the cracker has reached the doneness you prefer.
For Dinner I split a huge Green Salad with Doug. I prepared it with cucumber, green grapes, celery, green onion, avocado, baby sunburst squash and mixed baby greens. 
6 days left of our raw vegan challenge!
Find Heather on Facebook, Instagram, Pinterest and Twitter @hpesthetics. For more information on TSA/RSS, check out www.itsan.org, the International Topical Steroid Addiction Network. You can also read about Heather Petersen's experience at: www.eczemancipated.com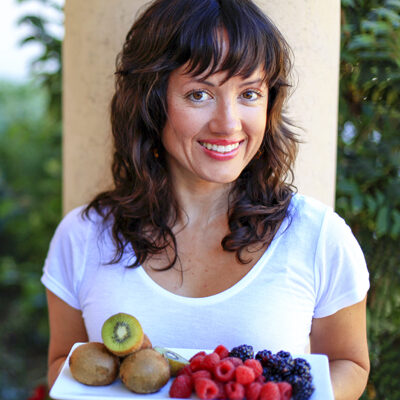 Hi, I'm Christine, thanks for stopping by! As a fibromyalgia thriver (symptom-free for over 10 years now thanks to diet and lifestyle changes), it is my passion to share the healing power of food.
As an RN and Holistic Nutrition Practitioner, it is my desire to empower you to take charge of your life.
Let's journey together to glowing health. Learn More
Your Health Transformation
Starts Here!
Sign up to get FREE healthy lifestyle tips and recipes!