Ginger Apple Pumpkin Spice Smoothie
Autumn is such a delightful time of year.  I love the changing of the weather, the changing of the colors of the leaves and I really love fall fruit.  One of my favorite colors is orange, it's so rich and earthy so when I'm grocery shopping my eyes naturally drift to such colors of fruit.   The rich orange and deep red colors of fall fruit are so appealing to the eye.
As soon as pumpkin comes in season I start going crazy with it, making smoothies, desserts or even cooking it with other vegetables.  It's such a wonderful fruit.  For some reason I seem to use more ginger in the fall too.  The addition of it just makes all the other fall flavors come to life.  Plus it is a warming spice, so if you are eating a mostly raw food diet in the winter warming spices like ginger really help you feel warm.
This delicious comforting pumpkin spice smoothie brings all the delectable flavors of fall together into one glass.  As I was making it my kitchen was beginning to smell like a fresh-baked pastry with the aromatic spices of cinnamon, vanilla, ginger and of course the pumpkin spice. Not to mention it is packed with health benefits.
Pumpkin is an excellent source of vitamin A which is essential for eye health and good vision.  It also promotes bone growth and helps keeps a strong immune system. It is also essential for healthy, glowing skin. Pumpkin is one of the highest sources of potassium.  Potassium is essential to heart health and to keep muscles working optimally.
If you're a fibromyalgia warrior like me then you'll be interested to know that pumpkin helps reduce inflammation and inflammatory disease, such as rheumatoid arthritis thanks to the high levels of beta-cryptoxanthin it contains.
This smoothie is just one more example that eating on the raw food diet, healthy foods equal delicious, satisfying, healing foods.  You do not have to sacrifice taste for healthy.  They go hand in hand when you eat whole, fresh, ripe in season fruits and vegetables.  When you think about the simplicity of the raw food diet it's just amazing.  There is no refined sugar added here, no dairy, no processed ingredients or add preservatives and it is low in fat.  That means every time you drink up you are nourishing your body with 100% healing foods.  That is so important for glowing health!
Serves 1 (about 4 cups)
Recipe:
1 cup sugar pumpkin, peeled & cubed
1 1/4 cups coconut milk
5 medjool dates, pitted
3/4 cup fresh apple juice
1 heaping tsp pumpkin spice
1 capful of pure vanilla extract
1 quarter size chunk of ginger
1 ripe ooey gooey persimmon, topped removed
(optional) 1/2 cup ice
Blend all the above ingredients in a high-speed blender on high until creamy and smooth.  Pour into a fun glass and enjoy immediately.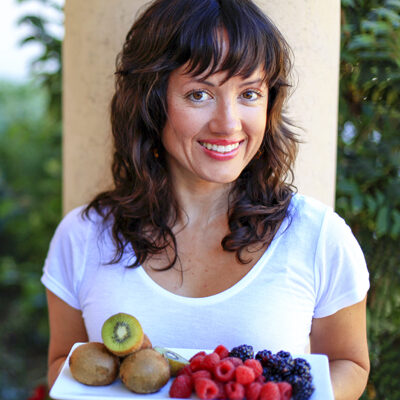 Hi, I'm Christine, thanks for stopping by! As a fibromyalgia thriver (symptom-free for over 10 years now thanks to diet and lifestyle changes), it is my passion to share the healing power of food.
As an RN and Holistic Nutrition Practitioner, it is my desire to empower you to take charge of your life.
Let's journey together to glowing health. Learn More
Your Health Transformation
Starts Here!
Sign up to get FREE healthy lifestyle tips and recipes!