I've found that having tasty spreads, sauces, dips and dressings really make for enjoying the raw food diet.  They're essential for me.  Following a low-fat raw food diet I eat mostly fruit during the day so I usually eat big salads, zucchini pastas, or wraps for dinner.  I'm constantly on a mission to create new dressings or sauces that are oil-free, delicious and make eating my veggies that much more enjoyable.  It's important to me to love the food I eat, it has to be delicious after all I'm a big time foodie!
This raw vegan oil-free mayo is so versatile, it can be used for so many things.  It's great as a creamy spread, as a dip for cut up veggies or as a spread on veggie wraps.  You could even add some fresh herbs and blend it with more water to make a salad dressing with it. One of my favorite simple, snacks is just romaine leaves with dip and this mayo is perfect for that.  It's a great snack for kids, or even at a dinner party to put out as an appetizer.
This raw mayo is rich and creamy yet sweet and tangy at the same time. It's soy-free, egg-free, oil-free and all natural, how great is that! This makes about 3/4 cup and if stored in an airtight container can last several days in the fridge. It's a great condiment to keep on hand to pull out as needed.  I even like to put a dollop of it on my salads. If you want to turn it into a dressing just add a little more water.
So here's the recipe, enjoy!
Recipe:
1 cup cashews, soaked overnight in filtered water, drained and rinsed
3 Tbsp lemon juice
1 medjool date, pitted
1/3 cup water
1 tsp onion powder
1 tsp stone ground mustard
Place all ingredients in a blender and blend on high until creamy. NOTE: If you have a Vitamix you will need the tamper to scrape down the sides as it blends.  If you DON'T have a Vitamix or high-speed blender, you will need to stop to scrape down the sides and continue blending.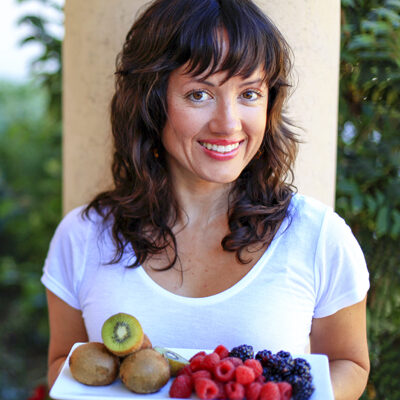 Hi, I'm Christine, thanks for stopping by! As a fibromyalgia thriver (symptom-free for over 10 years now thanks to diet and lifestyle changes), it is my passion to share the healing power of food.
As an RN and Holistic Nutrition Practitioner, it is my desire to empower you to take charge of your life.
Let's journey together to glowing health. Learn More
Your Health Transformation
Starts Here!
Sign up to get FREE healthy lifestyle tips and recipes!