Spiced Chunky Cranberry Applesauce
This week I found myself with a large bag of apples not knowing what to do with them.  Usually I'll juice them, add them to salads or as a snack I just adore them cut up with almond butter.  But, today I decided to do something different.  I felt like making applesauce.  I've always found apple sauce to be boring but for some reason today it sounded good, and I put my own lil spin on it making this chunky spiced cranberry applesauce.  With a touch of  ginger and cinnamon it has such a nice warm spice kick to it.  This is a great recipe to add to a meal, as a snack or even for breakfast.
In the winter, especially during the flu season I like to use a lot of cranberries and ginger.  Cranberries are full of antioxidants that help boost your immune system.  Research has shown that those who regularly drink cranberry juice have fewer symptoms of colds and flus.  Cranberries are full of wonderful health benefits.
Ginger also has amazing health benefits.  In Chinese medicine it has been recommended to help cure and prevent several health problems.  Ginger is known to help promote  circulation in the body, which in the winter time helps to keep you feeling warm.  Ginger helps strengthen the immune system, so especially in the cold winter months take advantage of using this amazing powerful ingredient to naturally build a resistance to colds and flus.
Why buy applesauce at the store filled with preservatives and artificial ingredients when you can so easily make your own at home? With just a few simple ingredients you can have a delicious healthy apple sauce with all the nutritional benefits intact since nothing is heated.  Why settle for less than the best when it comes to your health and what you put in your body?
Recipe:
2 large Pink Lady apples (or any other sweet apple), chopped with skins
1/2 cup fresh cranberries
5 medjool dates, pitted (add more or less depending on the sweetness desired)
1/3 cup freshly squeezed orange juice
1/4 tsp freshly grated ginger
1/4 tsp cinnamon
Directions:
1) Soak dates in orange juice until they become nice and soft,  for about half an hour.
2) In a food processor pulse apples until they are blended.  Make sure not to over blend to the point where it is smooth.  It should be small chunks.
3) Add in the rest of the ingredients, including the dates and juice they were soaked in and blend until well mixed.  ( I like mine slightly chunky, so I pulse it to make sure not to over blend it.)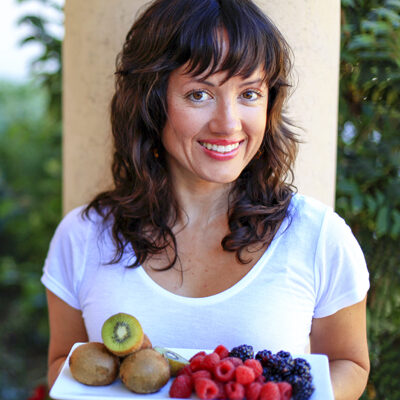 Hi, I'm Christine, thanks for stopping by! As a fibromyalgia thriver (symptom-free for over 10 years now thanks to diet and lifestyle changes), it is my passion to share the healing power of food.
As an RN and Holistic Nutrition Practitioner, it is my desire to empower you to take charge of your life.
Let's journey together to glowing health. Learn More
Your Health Transformation
Starts Here!
Sign up to get FREE healthy lifestyle tips and recipes!