Raw Vegan Apple Oatmeal (Oat free)
One of my favorite comfort foods for breakfast is oatmeal. I've been craving hearty filling cereals for breakfast lately instead of the usual smoothies I make.  I got the inspiration for this "oatmeal" from Megan Elizabeth.  I love her recipes because they are so simple and easy yet she manages to keep them healthy and delicious without ever using oils and salt or too much fat. Thanks Megan! 🙂
On the raw food diet I think it is important to have those comfort foods to keep you from sliding back into old habits.  Whether it be a dessert or a snack or a meal, it is important to create those raw replacements for the foods you used to love on the SAD diet.  This apple oatmeal is one of those for me.  It just really hits the spot and I think you will really love it too!
Serves 1
Recipe:
 4 apples, cored
1/3 cup walnuts
1/4 cup Goji berries
1/4 cup dried Mulberries
1 tsp cinnamon
(optional) 1 cup of nut or coconut milk to make it more of a cereal.
In a food processor (or Vitamix)  blend the apples and walnuts on low.  Be careful not to over blend because you want small chunks not liquified. If you don't have food a processor or blender, chop apples and walnuts with a knife into small pieces. Scoop into a bowl with the berries and cinnamon and mix well.
Nutritional benefits of Mulberries:
– Mulberries are an excellent source of iron.
-They are a good source of resveratrol, an antioxidant which has been found to protect against stroke.
– They are a good source of minerals like potassium, manganese, and magnesium.  Potassium is important in controlling heart rate and blood pressure.
– They are an excellent source of vitamin C, which is a powerful natural antioxidant.  Vitamin C helps protect the body  from free radicals and develop resistance against infection.
You can add mulberries to smoothies, oatmeal or cereal or over desserts.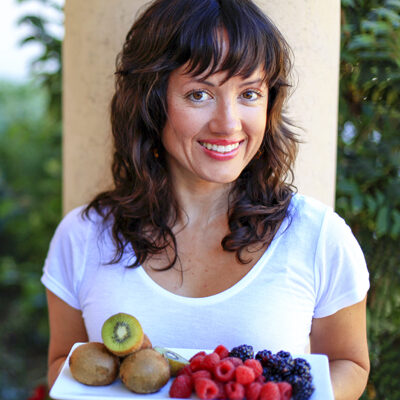 Hi, I'm Christine, thanks for stopping by! As a fibromyalgia thriver (symptom-free for over 10 years now thanks to diet and lifestyle changes), it is my passion to share the healing power of food.
As an RN and Holistic Nutrition Practitioner, it is my desire to empower you to take charge of your life.
Let's journey together to glowing health. Learn More
Your Health Transformation
Starts Here!
Sign up to get FREE healthy lifestyle tips and recipes!