This raw cashew cheese spread is adapted from a recipe I learned in Ani Phyo's raw food certification course.  She taught us so many simple, practical yet fun recipes.  This is one of those.  The great thing about this cheese spread is that it is extremely versatile.  Not only can it be used as a dip for raw crisp veggies, you can use it as the cheese on lasagna, a spread, or even add it to soups to add creaminess to it.
On the average day just about my diet is made up of raw, fresh fruits, veggies and greens.  Very little fats from avocado, nuts or seeds.  Healthy fats are essential but in small proportions.  This cashew cheese spread is high in fat so it is something I use very sparingly.
I love this cheese spread on dehydrated crackers or even as a spread in my cabbage or lettuce wraps.  Recently friends of mine brought this to a party with a platter of veggies and they later told me it was a huge hit!  I was so excited to hear that because there were no raw vegans there it was just a normal party with all types of food, and they loved it.  That is always the biggest form of compliment when ones who are just plain 'ol food lovers enjoy my food, not because it is healthy but they truly like the taste.  My goal is to make my healthy food as delicious as possible.  I do not believe in sacrificing taste for healthy!
Who says dairy-free has to be boring? Look at this creamy goodness!
Look at how creamy and fluffy that looks!
Recipe:
1 3/4 cups raw cashews, soaked overnight in filtered water, rinsed and drained
2 Tbsp lemon juice
1 clove large clove garlic
1/3 cup water (more or less depending on the desired consistency)
Blend in a high-speed blender until smooth and creamy.  If you don't have a blender you can use a food processor.  Scoop out into a small bowl and garnish with fresh herbs.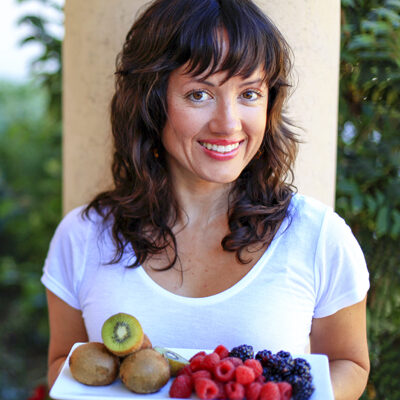 Hi, I'm Christine, thanks for stopping by! As a fibromyalgia thriver (symptom-free for over 10 years now thanks to diet and lifestyle changes), it is my passion to share the healing power of food.
As an RN and Holistic Nutrition Practitioner, it is my desire to empower you to take charge of your life.
Let's journey together to glowing health. Learn More
Your Health Transformation
Starts Here!
Sign up to get FREE healthy lifestyle tips and recipes!