If you are an apple pie lover, you will love this smoothie! Even if you are not an apple pie lover you will love this smoothie. 🙂 Unlike apple pie this smoothie is wheat and gluten-free, dairy-free and has no added refined sugar.  So if you're like me, who is extremely sensitive to gluten, you can truly enjoy this dessert without the stomach bloating, pain, or heart palpitations after.  When you can enjoy a dessert and not suffer after, that is truly having your cake and eating it too!
Do you ever get those sweet tooth cravings where you just HAVE to have something sweet? I know I do.  This is the perfect dessert smoothie to satisfy it.  It really tastes like apple pie in a glass! With the comforting aromas of the nutmeg, cinnamon and cloves it makes me feel like I'm about to dig into a  warm pie.  The dates add that delicious sweetness and the pink lady apple gives it that perfect apple touch.  If you have never tried a pink lady apple, it is the sweetest apple ever.  It tastes like a jolly rancher it's so sweet.  It literally is better than any candy.  You really must try one!
Recently I found out that there are over 7,000 varieties of apples. Wow! That's an incredible variety.  Each has its own unique smell, color, taste, and texture. That's interesting to me because I hear people say that the raw food diet sounds boring! But when you think of all the endless varieties of fruits and vegetables in the world you can go for weeks without ever eating the same meal twice.  And it's so much fun trying new fruit.  That is not boring at all!
This smoothie is made with only the healthiest of ingredients that nourish and feed your beautiful body, so don't be afraid to indulge yourself in this delightful treat.  I don't know about you but I LOVE to eat!  I am half Italian and married to an Italian and trust me Italians love them some food, and that is why I love the raw food diet.  It truly is a diet for those who love to eat.  There is no carb counting or calorie counting, it's an unlimited buffet of delicious fresh, ripe, organic fruits and vegetables.  So drink up!
Serves 1
Recipe:
1  frozen banana
1 pink lady apple, sliced (you could also use a gala apple, but I really prefer the pink lady)
1 cup almond milk
A pinch of  ground clove
1/4 tsp of cinnamon
A pinch of nutmeg
3 medjool dates, pitted
1 handful of walnuts, soaked 6+ hours, drained & rinsed
Mix all ingredients together in a high-speed blender until creamy and smooth. Garnish with crushed walnut pieces and cinnamon.
Happy sipping!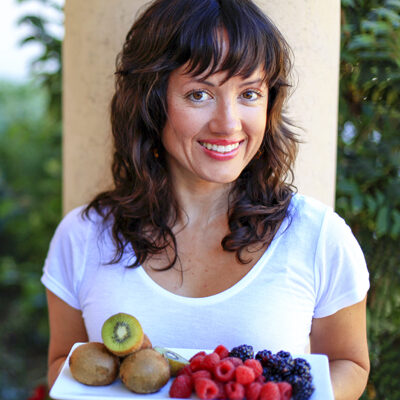 Hi, I'm Christine, thanks for stopping by! As a fibromyalgia thriver (symptom-free for over 10 years now thanks to diet and lifestyle changes), it is my passion to share the healing power of food.
As an RN and Holistic Nutrition Practitioner, it is my desire to empower you to take charge of your life.
Let's journey together to glowing health. Learn More
Your Health Transformation
Starts Here!
Sign up to get FREE healthy lifestyle tips and recipes!