Chocolate Coconut Chia Pudding
I don't know about you but for me as a nurse, leaving the house sometimes before it's even light outside, the last thing I want to do is worry about preparing my lunch for the day.  I just want to get ready and go!  So, this chia pudding is perfect for that kinda morning. It is so easy to make, so versatile and so healthy that you just can't go wrong! This particular recipe requires only three ingredients so it is super simple and quick to make.  I usually will make chia pudding the night before, since the seeds need to soak anyway, then in the morning it is all ready to go and all I need to do is throw it in my bag as I'm running out the door.  Can't get any easier than that, it takes longer going to a fast food chain waiting in line!….Please don't go to fast food…this is fast food! 🙂  The great thing about chia pudding is that it keeps you feeling satisfied for hours.  Chia seeds are filled with fiber and protein, and when they are soaked they hold up to 9 times their weight in water so with little calories they keep you feeling filled.
I love to top mine with fresh fruit.  Now that strawberries are in season, I have been buying them by the flat so I have been making strawberry everything! So what goes better with that chocolatey taste than fresh, sweet strawberries?  If you have never tasted in-season, ripe, organic strawberries from the local farmers' market I'm telling you, you have not lived lol.  There is no comparison to the fruit there with that in the stores.  Better than any candy you could ever taste.
I use carob as an alternative to cacao because it does not contain the caffeine or theobromine that cacao does which are very addictive and stimulating.  It has a natural mild sweetness to it, but I am going to be very honest it is not exactly like chocolate, so you can't expect that.  However, it tastes great and with the color resembling chocolate it really does the trick if you're craving chocolate. You can buy carob at any health food store, I usually get mine from Whole Foods or Sprouts if you have one of those near by.
Servings 1
Recipe:
1 young Thai coconut, flesh and water of (it's about a cup of each)

2 Tbsp toasted Carob powder
2 Tbsp Chia seeds
1 carton of strawberries (or fruit of choice)
Directions:
Blend the coconut meat and water together until it becomes creamy and smooth, add the carob and blend until it is mixed in well.  Pour into a small glass jar and add the chia stirring well for at least a minute or until it starts thickening.  Make sure to stir in well otherwise the chia turns into clumps.  Let sit for a minimum of 15 minutes or even overnight in the refrigerator.  When ready to eat top with fresh fruit.
This will keep in a air-tight sealed jar for about two to three days.
Rawmazing benefits of Chia seeds:
– These bad boys are a dieters dream! When chia seeds are exposed to water they form a gel, holding up to nine times their weight and size.   These seeds can be made to taste like whatever you want. Since the gel is made of water it has no calories (other than the Chia seeds), so you feel satisfied and full for hours, without the calories!
– Chia seeds keep your bowels regular. Chia is high in soluble and insoluble fiber helping decrease constipation.
– Chia is the richest plant source of omega-3 oil.  Omega-3 is important in healthy heart and brain function.
– Chia has five times the calcium of milk, plus boron which is a trace mineral that helps transfer calcium into your bones.

– Chia seeds are one of the highest plant-based sources of complete protein which makes you feel more energized giving you that "pick-me up" when you need.  So dump the coffee and the cola's and try some Chia!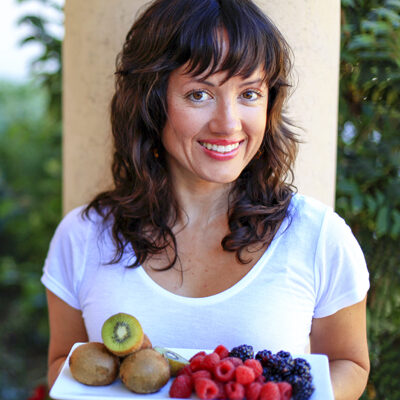 Hi, I'm Christine, thanks for stopping by! As a fibromyalgia thriver (symptom-free for over 10 years now thanks to diet and lifestyle changes), it is my passion to share the healing power of food.
As an RN and Holistic Nutrition Practitioner, it is my desire to empower you to take charge of your life.
Let's journey together to glowing health. Learn More
Your Health Transformation
Starts Here!
Sign up to get FREE healthy lifestyle tips and recipes!