I am so excited to share this raw vegan pasta Alfredo with you because it is one of my favorite recipes.  What makes it even more special to me is that even my husband gave it his two thumbs up! He is my toughest critic.  He is a non-raw, non-vegan Italian from Italy who loves him some pasta.  So, for him to like it in place of his pasta that's gotta say something!
I love zucchini pasta, it is easy to make and so versatile.  Usually my dinner is a large leafy green salad filled with veggies, but to change it up some times I will make zucchini pasta.  In this recipe is used the Joyce Chen spiralizer. I like that one just because of the angel hair pasta it makes.  Angel hair was my favorite type of pasta so to recreate that texture makes it feel like the real thing, plus I just love how it really looks like pasta too.
You can eat this alfredo pasta by itself but to really make it super filling and nutritious in I like to put it on a bed of spinach or even mixed greens. I like to add greens in when I can, after all it is a great source of high quality protein on the raw food diet, not to mention essential minerals like calcium.
Speaking of calcium, a little side note, I recently went for a physical and had basic blood work done.  It was the first time I have had blood work done since starting this diet almost two years ago.  I was quite curious how all my levels would be.  The day after I got a message from my doctor's office stating to stop my calcium supplements  because my calcium was, not out of range, but on the high-end of normal.  Another words they just assumed I must be on a supplement for it to be that good on its own! Imagine if they knew that I don't eat dairy or meat, they would be in shock! Not only no supplements but, a plant-based diet…the irony! I mention this because I have been asked how I get enough calcium or protein on this diet.  The answer is GREENS lots and lots of greens! 🙂
The base for most raw alfredo sauce  is nuts.  I wanted to keep this a lower fat recipe so I used half nuts and half zucchini.  Zucchini adds a nice creamy texture, has a subtle flavor and keeps it much lower in fat. If you prefer you can omit the nuts altogether and just replace it with more zucchini.
Serves 2 large, or 3 smaller plates.
Recipe:
For the pasta:
3-4 medium zucchini or summer squash, peeled and spliralized (if you don't have a spiralizer  you can use a veggie peeler, a Julienne peeler, or a mandolin).  Place the noodles in a large bowl.
For the Alfredo sauce:
1/2 cup cashews, soaked overnight drained and rinsed
1/2 cup zucchini, peeled and chopped in small chunks
1 clove garlic
1 Tbsp Thyme
1 Tbsp lemon
(optional) 2 Tbsp Nutritional Yeast
1/4 cup water, add more or less depending on the desired consistency
Blend all the above ingredients, except for water, in a blender.  Slowly add in the water until it is desired consistency.  Pour over noodles thoroughly mixing in.  Top with marinated mushrooms.
For the marinated mushrooms:
1/2 cup Cremini mushrooms, sliced
1 Tbsp lemon juice
2 Tbsp Olive oil
Garlic powder, sprinkle to taste
Slice the mushrooms and marinate in a small bowl with lemon juice, olive oil and garlic powder.  Marinate for at least 20 minutes. Use as garnish with some basil for the pasta.
Mangia and enjoy!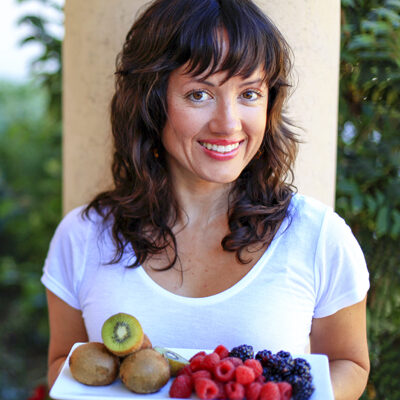 Hi, I'm Christine, thanks for stopping by! As a fibromyalgia thriver (symptom-free for over 10 years now thanks to diet and lifestyle changes), it is my passion to share the healing power of food.
As an RN and Holistic Nutrition Practitioner, it is my desire to empower you to take charge of your life.
Let's journey together to glowing health. Learn More
Your Health Transformation
Starts Here!
Sign up to get FREE healthy lifestyle tips and recipes!