Raw Vegan Day 22 + Heirloom Tomato Soup Recipe
Day 22 – Raw Vegan and Red Skin Syndrome Awareness
Week 4 begins today on a beautiful sunny day after several days of rain. I'm feeling a lot better today. It's been an uphill battle since Sunday, but I'm always amazed how the sunshine makes such a difference. I feel like the dampness from the rain really affects my overall skin health and allergies. So the dry sunshine was a welcomed friend.
Red Skin Syndrome Fireside Chat:
Today we will listen to William Nguyen tell us about how he became Topical Corticosteroid Addicted and then found ITSAN.org and the path to health through Topical Corticosteroid Withdrawal.
"Dear Readers, My eczema was exacerbated by using Minoxidil. This is the core ingredient in all hair regrowth products. [Though the hair grows] back magnificently… the side effects were itchy scalp on the side and back (where the hair remains on bald men). [Over the course of use,] the itchiness got worse (but NEVER as bad as TSA/TSW). Instead of my head, it spread [over a large part of my body and led to the eventual use of] steroid based treatments. [The steroids] gave such relief to the redness, itching and patches of raised, red, dry skin. Eventually, this became a routine whenever the patches of itchiness returned. I did this with a variety of steroid creams… depending on which doctor prescribed something that could ease my itch. I had never known about steroid being an ingredient and what they could do.
Anyway, after the itch patches grew, I thought it was because I did not apply enough steroid cream or let affected areas escape, so I applied it to the rest of my body. Eventually [the itchy patches] spread over my body and my face. Long story short, I got fed up and searched around online – eventually landing in various eczema related blogs which hit my symptoms right on the head. They led me to the Facebook page and I eventually found ITSAN. [After finding ITSAN], my depression was eased, knowing that it was not a unique combination of climate relocation (I was an ESL teacher in China, and Vietnam) and chemical absorption that caused all this, but simply 1 ingredient – steroid. Speaking to others about my condition, listening and sharing, I was relieved about many things. Things that seemed abnormal were safely confirmed as TSA/W symptoms. Things that were abnormal could be checked separately. Suffering from TSA is the worst possible physical torture one can endure, but enduring it alone and thinking that I am the only person is worse. I cannot thank the people around the world enough who write blogs about this. My biggest thanks goes to Joey who created the ITSAN forum and actively helps new members cope."
[ ] inserted by Heather Petersen for brevity.
For more information, check out www.itsan.org, the (ITSAN) International Topical Steroid Addiction Network.
Day 22
THURSDAY BREAKFAST – My usual quart of water and then a really spectacular smoothie. Mango Mandarin Smoothie.
Mango Mandarin Smoothie RECIPE: 1 cup mango, 1 cup pineapple juice, 1 inch of ginger with peel, 1 ripe banana, 2 peeled Mandarin Oranges and 8oz of water
THURSDAY LUNCH – I recall Christine making a Tomato Soup in her 30 Day Raw Journal. So I made my own today with beautiful Heirloom Tomatoes I spied in the store.
Tomato Soup RECIPE: 1 large yellow heirloom tomato, 1 small red heirloom tomato, 1 peeled clove of garlic, 1 teaspoon salt, 6 large Basil leaves and a smidgen of water to thin it out. Throw it in the blender and blend until smooth. Makes 1 serving, I garnished mine with 2 inch chunk of zucchini diced, a sprig of basil and 1 sun-dried tomato diced. MMM MMM GOOD!
THURSDAY SNACK – a handful of olives, ½ avocado and handful of baby gherkins (dill pickles)
THURSDAY DINNER – Wasn't super hungry today, finished off the humus and then took Christine's advice and portioned out my serving of nut for the day.
Did 1 tablespoon cannel of Frangipane cream and fruit crackers – 1 tablespoon cannel of Frangipane Cream swimming in 6 ounces of Raspberry Sauce and a fruit cracker.
Heather Petersen
www.eczemancipated.com
Facebook: Eczemancipated
Twitter: @HPEsthetics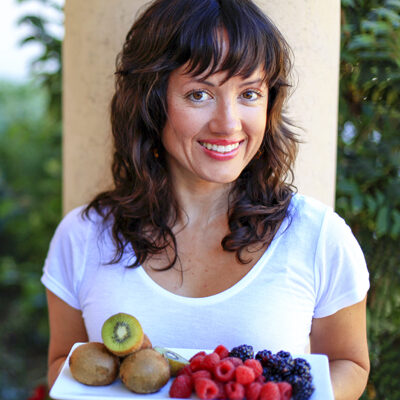 Hi, I'm Christine, thanks for stopping by! As a fibromyalgia thriver (symptom-free for over 10 years now thanks to diet and lifestyle changes), it is my passion to share the healing power of food.
As an RN and Holistic Nutrition Practitioner, it is my desire to empower you to take charge of your life.
Let's journey together to glowing health. Learn More
Your Health Transformation
Starts Here!
Sign up to get FREE healthy lifestyle tips and recipes!