As a young girl my mom would often make me tuna salad.  It was always kind of a comfort meal to me. That was the inspiration for this recipe.  This raw vegan tuna salad is great on top of a bed of greens or even wrapped in romaine or cabbage with tomatoes and arugula.  I love it because it is refreshing and at the same time adds a heartiness to the meal.  And if you find yourself craving the fishy flavor than the dulse flakes really add the tuna salad flavor.  Let's save a tuna and eat this incredibly tasty dish instead! 🙂
Dulse is a sea vegetable and is a great source of Iodine, which is essential for proper thyroid function. You can buy it at WholeFoods or any health store.  You can use dulse flakes in salads or any recipe to substitute salt.  It does have a fishy flavor so keep that in mind.
When I would eat tuna (on the SAD) I loved eating it with something sweet.  I loved the sweet and salty mix.  So for this recipe I added apples, along with the dulse flakes and celery which is quite salty.  It gives it a nice contrasting flavor and a nice crunch to it.
This is great to pack as a  lunch for your kids at school or for  you at work, it's super easy to take along.  There is no excuse not to always be eating healthy! 🙂 Oh and it literally takes less than 10 minutes to make!
FYI…Originally the recipe I originally created called for two cups sunflower seeds, but to cut down on the fat I substituted the second cup with carrots which also gives it a nice refreshing mildly sweet flavor.  So the above pictures do not reflect the addition of carrots.
Servings 2
Recipe:
1 cup sunflower seeds, soaked 2+ hours, drained & rinsed
3 carrots
1 apple, peeled, cored and cut into quarters
3 celery stalks, chopped
2 Tbsp dulse flakes
1 Tbsp dill
1 small  lemon, juice of
1/4 small yellow onion
Arugula, spinach or greens of choice
Mayo Start with a couple tablespoons and add from there for desired consistency
Place the sunflower seeds, carrots and apple  in a food processor until finely blended.  Make sure not to over blend it into a paste.  Place in a bowl and mix in all other ingredients thoroughly. place over a bed of arugula or spinach.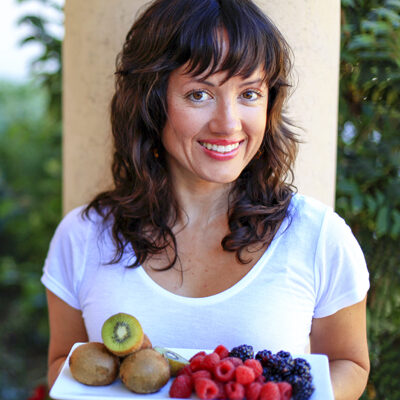 Hi, I'm Christine, thanks for stopping by! As a fibromyalgia thriver (symptom-free for over 10 years now thanks to diet and lifestyle changes), it is my passion to share the healing power of food.
As an RN and Holistic Nutrition Practitioner, it is my desire to empower you to take charge of your life.
Let's journey together to glowing health. Learn More
Your Health Transformation
Starts Here!
Sign up to get FREE healthy lifestyle tips and recipes!