No Bake Carrot Cake with Vanilla Cream Frosting
This is one dessert I am so excited to share with you! One, because I just adore carrot cake and have just revised an older version of this recipe so now it finally is just right.  Two, because I brought it into work and had it officially nurse approved, that means it HAS to be good.:) And three, because I use my carrot juice pulp to make it, so I am not only getting fresh juice from my carrots I then get carrot cake after.  That's a win-win deal, right? But, if you don't have carrot pulp you can simply use whole carrots instead.
People always ask me what I do with my juice pulp.  I try to organize my recipes during the week so that I can then use the pulp for other recipes.  For example, when I make carrot juice I collect the pulp, refrigerate it and make different recipes with it like this one. Worse case scenario, I simply use it in my compost pile to fertilize the ground.  So, either way it's not gong to waste.
If you are a carrot cake lover I just know you are going to love this…actually even if you're not I'm pretty sure you're gonna love this!  The great thing about the raw version is that it is gluten-free, dairy-free and no added refined sugars.  So you actually can indulge and not feel guilty.  Only on the raw food diet can you actually have a dessert for a meal and not feel like you're cheating.  It's great, I love it!
This carrot cake recipe is really simple and so easy to make.  Other than the freezing it, it would only take about 15 minutes to make no oven or anything super messy to clean up after, just a blender and a food processor…and of course the baking dish.  I love having guilt-free desserts like this on hand.  If I come home and am craving sweets I know I have this deliciousness waiting for me in the fridge.  NO need to look anywhere else where I shouldn't be.  Having a few prepared dishes or snacks like this on hand are very really helpful to keeping on track.  Especially if the rest of your family does not share with you on the raw food diet, while they eat their dessert you have your delicious one that you can eat with them.  This way you don't feel left out or left craving theirs.  But, seriously this one is so good you can share it with your loved ones and they will love it too.  After all, my co-workers sure did!
If you have children, why not start switching over from refined, processed sweets to healthy tasty treats like this carrot cake.  If it's good, they won't look at it as raw or healthy, they will just look at it as a treat they enjoy.  The beauty of foods like this carrot cake is that it is made with only fresh, whole, organic, non-processed fruits and nuts.  NO chemicals, preservatives, artificial coloring or dyes.  Isn't that the kind of food you want to feed yourself, your children and your family with? I know I do! I hope you love this cake as much as we all did here. Enjoy!
Recipe:
For the carrot cake:
2 cups carrot pulp (about 3-4 medium carrots)(IF using whole carrots cut into chunks)
1/2 cup Pecans, soaked 6+ hours, drained & rinsed
1 cup medjool dates, pitted (about 10 dates)
1/2 cup shredded coconut
1 fuji apple, cored and cut into medium size pieces
1 quarter size chunk of ginger
1/2 tsp pure vanilla extract
1/2 tsp cinnamon
For the frosting:
1  1/4 cup Cashews, soaked 6+ hours, drained and rinsed
1/2 tsp vanilla powder (I used Madagascar Vanilla)
1 Tbsp + 2 tsp lemon juice, (about 1 lemon)
3 medjool dates, pitted
1/3 cup water more or less for desired consistency
For the frosting:
In a high-speed blender blend all the above ingredients, minus the water. Add the water in slowly using just enough to blend making it creamy.  If using a Vitamix you will probably have to scrape down the sides several times with a spatula.  It may take up to five minutes to get it blended.  Pour into a small bowl and set aside.
For the cake:
Place the chunks of apple into the food processor.  Blend until it becomes coarsely shredded, be careful not to over process, it should be coarse pieces. Then add the carrot pulp, along with all the rest of the ingredients above for the cake mix.  Pulse until it becomes a coarse sticky mix.  Once again make sure to not over process.
NOTE: If using whole carrots cut them into medium size chunks and add them with the apple to blend, making coarse pieces.
Line an 8×8 glass baking dish with wax paper.  Press the mix evenly into the dish, then add the frosting generously on top. Place in freezer for about one hour. Take out of the fridge and let it sit for about 25 minutes before eating.  Sprinkle cinnamon on top and voila'!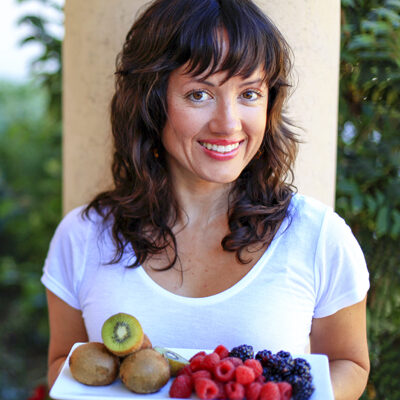 Hi, I'm Christine, thanks for stopping by! As a fibromyalgia thriver (symptom-free for over 10 years now thanks to diet and lifestyle changes), it is my passion to share the healing power of food.
As an RN and Holistic Nutrition Practitioner, it is my desire to empower you to take charge of your life.
Let's journey together to glowing health. Learn More
Your Health Transformation
Starts Here!
Sign up to get FREE healthy lifestyle tips and recipes!