Green Smoothie Breakfast Bowl
Lately I have really been trying to increase greens in my diet.  I love fruit and really gravitate to the sweetness of it so sometimes I really have to remind myself to eat more greens and vegetables.  Jen and Jadah over at Simple Green Smoothies have really been an inspiration for me.  They have so many amazing green smoothie recipes that there is just no excuse not to be making one every day!  If you are new to green smoothies, or just looking for really creative delicious recipes I highly recommend you check them out!
Greens are a powerhouse of nutritional benefits.  They are a rich source of minerals and phytonutrients. Dark leafy greens contain small amounts of Omega-3 fats.  Greens are important  on the raw food diet to manage cooked food cravings.  If you ever find yourself craving cooked food try adding more greens to your diet and that usually helps.
Usually for dinner I make a huge salad of mixed greens with either veggies or fruits mixed in, so for breakfast or even as a snack I love to make a green smoothie.  It's an excellent way to increase greens especially for ones new to the raw food diet who may not enjoy the taste of them initially.  I use all different types of greens and switch them up through out the week.  A few of my favorites are kale, bok choy, rainbow chard and spinach.
I used to love cereal for breakfast l, but  now these fresh, organic, healthy, smoothie bowls have definitely filled the spot.  So forget the store-bought cereals made from GMO products, lots of sugar, chemicals and additives and make a REAL "fruit loops" cereal!  The idea is to make a delicious smoothie as the "milk" and fill it with delicious fruits of choice, just like cereal!
This is a great idea for kids, they will love it and they can pick all the fruit or toppings of choice.  I like to put all the different fruit in little bowls and just let them pick.   It's great! This is a great way for them to enjoy a green smoothie  if they initially don't want to drink it.
Recipe:
1 young Thai coconut, water of (about 1 1/2 cups)
1 1/2 cup frozen peaches
1 quarter size chunk of ginger
2 large bananas
1 1/2 cup spinach
Blend coconut water, peaches and banana and until creamy. Then add ginger and spinach and blend until smooth.
Top with fruit, seeds or nuts of choice.  In mine I added pomegranate seeds, crushed walnuts, wild blueberries and cut up banana.
What's your favorite green smoothie?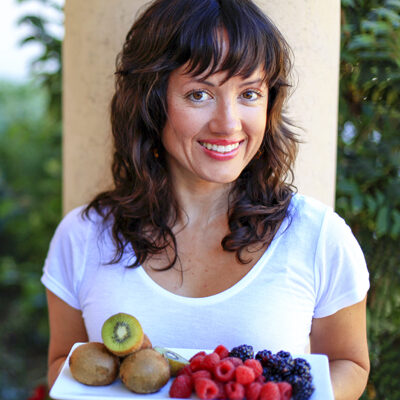 Hi, I'm Christine, thanks for stopping by! As a fibromyalgia thriver (symptom-free for over 10 years now thanks to diet and lifestyle changes), it is my passion to share the healing power of food.
As an RN and Holistic Nutrition Practitioner, it is my desire to empower you to take charge of your life.
Let's journey together to glowing health. Learn More
Your Health Transformation
Starts Here!
Sign up to get FREE healthy lifestyle tips and recipes!