Delicious Raw Vegan Apple Pie
I am so excited to share with you this amazingly simple, delicious raw vegan apple pie! It calls for only six ingredients and six simple steps to make it.  It is so simple and quick to make there is no excuse not to make such a yummy and healthy dessert.  This is a dessert that even if you are not raw or vegan you will love.  Sometimes as raw foodies we tend to classify foods as raw or vegan that others would just look at as a 'salad' or 'lettuce wraps' or in this case 'no-bake dessert'.  But when something is really good, non-raw foodies just look at it as…good.  So even though it is raw meaning no baking needed, and vegan meaning no eggs used and dairy-free,  it is something that everyone can enjoy.  I have taste tested it on my dad and he loved it, even asking for more.  I shared it with my friends who are not the least bit interested in what it is made of as long as it tastes good, and they loved it! And I know you will too.
What I love about this apple pie recipe is how close it tastes to the baked apple pie I grew up with, yet this one is gluten-free, has no added refined sugars, is much lower in calories and guilt-free.  You can rest assured that this baby is 100% wholesome goodness for the body.  While eating a delectable dessert you are be feeding and nourishing your body, thus healing it.  How fantastic is that?  Only on the raw food diet, bebe!

Walnuts are an excellent source of omega-3 essential fatty acids.  A diet rich in omega-3 is beneficial in reducing depression, cancer, and even Alzheimer's disease.  The omega-3 fatty acids found in walnuts, help keep the nervous system working smoothly, improves memory, contribute to a healthy heart, healthy blood pressure levels, are great for keeping the skin healthy and glowing, and are an anti-cancer food.


This is the type of food that we should be putting in our bodies. You are what you eat.  If you want to feel alive, vibrant, and  energetic then that is the type of foods you should be filling your body with.  Foods that are naturally vibrant in color, in smell and in taste.  Even more so for our kids, their growing precious bodies need only the purest nutrients to nourish them.  Sugar, sodas and pastries made from refined sugars, preservatives, color dyes, chemicals, etc really should have no place in a childs' diet.  On the other hand, these raw desserts made with only whole, natural, pure, fresh, fruits and nuts are feeding and nourishing them and boosting their immune systems not taking away from it.

Servings: 2 4×4 pie pans
Recipe:
Pie Crust:
1 cup raw walnuts, soaked 6+ hours drained and rinsed
1 cup Medjool dates, pitted (about 10-12 dates)
Filling:
2 granny smith apples, cored peeled and sliced very thin
Sauce:
1/2 cup packed dates
1/2 heaping tsp cinnamon
1 Tbsp + 1 tsp lemon juice
1/2 tsp pure vanilla extract
1/3-1/2 cup water (start with less water add until becomes a syrupy sauce)
Directions:
1. To make pie crust, pulse the walnuts and dates in food processor until it becomes a coarse meal.  Be careful not to over process, it should not be mushy, it should have coarse texture. (Set asides 1/3 cup to use as garnish).
2. Press dough gently into pie pans and set aside to chill in the freezer for about 30 minutes.
3.  Slice the apples into fine slices, if you have a mandolin that would work great for this.  Place the slices into a medium size bowl and set aside.
4. Blend  1/4 cup water with rest of the ingredients for the sauce in a blender, as it blends slowly add more water until the consistency is liquified enough that it is a syrupy sauce consistency.  (roughly 1/2 cup water total)
5. Pour the sauce over the apples, mixing it in well.  Allow to sit for at least 20 minutes to let the flavors enhance, and the apples will soften.
6.  Pull the pie crusts out of the freezer, layer the apples in the pie tart pans evenly creating a spiral of apples. Garnish with the rest of the crumble.
Enjoy immediately with a cold glass of coconut or nut mylk!
I would love to hear your comments on how you enjoyed this recipe.  Please fell free to leave a comment below!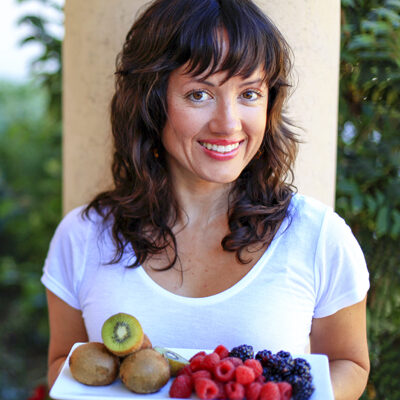 Hi, I'm Christine, thanks for stopping by! As a fibromyalgia thriver (symptom-free for over 10 years now thanks to diet and lifestyle changes), it is my passion to share the healing power of food.
As an RN and Holistic Nutrition Practitioner, it is my desire to empower you to take charge of your life.
Let's journey together to glowing health. Learn More
Your Health Transformation
Starts Here!
Sign up to get FREE healthy lifestyle tips and recipes!