No Bake Gluten-Free Peach Cobbler
With all the wonderful fruit that's in season now, there's such a lovely variety for making desserts.  One of my favorites has always been cobbler.  The peaches from the farmers' market this year seem to be exceptionally sweet, maybe it's just because I have missed them all year so it's just so good to bite into one. They're so juicy and sweet it's like rich sugary syrup bursts out each time I bite into them! Who needs candy when fruit taste so good? Fruit is the best antidote for a sweet tooth, totally hits the spot!
These white peaches make for an amazing dessert! What is so wonderful is that with their natural sweetness there is no need for added refined sugars. This recipe is low in fat and made simply with whole, ripe, organic fruit so there is no guilt here, no calorie counting.  You can make a meal out of this.  I actually had it for my lunch today! What other way of eating allows you to have dessert for lunch and not have to sacrifice something else later to make up for the added calories? Only the raw food diet bebe!
I am so excited for you to try this recipe, I just know you will LOVE it!  This is a dessert you can feel happy about giving your kids and your kids will feel HAPPY to eat it I guarantee.  This is the kind of desserts to be feeding our kids, one without all the chemical sugars, preservatives, gluten, dairy.  This is just wholesome goodness that their, growing bodies need.  Nothing more.
Serves  4 individual pies (4×4 dish)
Recipe:
Filling:
4 medium size peaches
Syrup:
2 peaches
2 medjool dates, pitted
1/2 tsp pure vanilla extract
1/2 tsp cinnamon
Crust:
1/2 cup almonds, soaked 6+ hours drained then rinsed
1/2 cup raw shredded coconut
6 medjool dates, pitted
1 tsp cinnamon
Directions:
1) To make the crust blend the almonds and shredded coconut in a food processor until it becomes a coarse crumble, then add in the dates and cinnamon and pulse blend until it is well mixed as a crumble.  Be sure not to over process it to the point it becomes mushy.
2) Press a small amount of the crumble into the bottom of each dish.
3) Cut the peaches into large chunks and place in a bowl.
4)  To make the syrup, blend the peaches, dates, vanilla and cinnamon and blend until it becomes smooth.  Pour the syrup over the peaches and mix together in the bowl.
5) Then, add the filling, layering with crumble and top with more crumble.
I must warn you in advance, this peach cobbler is addicting so eat with caution! 🙂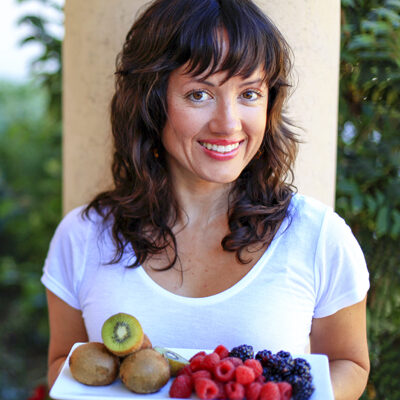 Hi, I'm Christine, thanks for stopping by! As a fibromyalgia thriver (symptom-free for over 10 years now thanks to diet and lifestyle changes), it is my passion to share the healing power of food.
As an RN and Holistic Nutrition Practitioner, it is my desire to empower you to take charge of your life.
Let's journey together to glowing health. Learn More
Your Health Transformation
Starts Here!
Sign up to get FREE healthy lifestyle tips and recipes!