Guest Post: Day 5 Raw Food Challenge + Banana Strawberry Basil Ice Cream
Thankfully, it was much cooler today in Santa Cruz, California. We have a beautiful breeze blowing through the new screen door our wonderful landlord installed to make us more comfortable. He is so kind.
Fridays and Saturdays I generally try to do a bit of volunteer work. This helps me to feel like I am still useful to society on some level.  In speaking with other people who have/are suffering through a severe and/or chronic illness like me, no matter what type of illness you have, it is really easy to become self-consumed. You can spend your entire day focused on trying to recuperate or maintain some stability in your health. Doing volunteer work helps me stay positive and in a peaceful frame of mind. It gives me a sense of purpose, even when some days "purpose" has seemed to be a thing of the past. Because it helps me maintain joy, I am more bearable to everyone in my family and circle of friends. They see I AM trying to get better and be a part of normal things. This in turns motivates them to offer much needed compassion and support.
The trick is setting a pace that is within my limitations. My husband is really good at encouraging me to care for myself and not use up my energy. For that, and so many other things, I am thankful.
Day 5 of 30 Day Raw Food Challenge
Upon arising I have been trying to drink 24-32oz of Purified Water.
In preparation of going out for a couple of hours, I packed my Breakfast and Lunch.
Purified Water with Lime (24oz)
Coconut Water (1 quart)
Large Green Salad (carrots, cucumber, celery, tomato and mixed baby greens with lemon juice)
DoughNot Holes (which I shared with a few people)
Frozen Lime Cream Sandwiches (which I shared with, and blew the minds of, some fellow volunteers)
Ozuke "Kale & Collard" Raw Vegan Kimchi (pictured below)
If I understand the Ozuke label, the actual word Ozuke literally means "the best pickled things" in Japanese. It was so scrumptious. I was weirdly craving Raw Vegan Apple Beet Sauerkraut the other day and found the Ozuke at Whole Foods. It looked interesting and really hit the spot. I love it and will totally try some of their other flavors. Don't worry Christine; it does NOT have vinegar, just ginger garlic cayenne and some other spices. It is then fermented and kept refrigerated. If you like things like Sauerkraut, Southern style Collards and/or Kimchi, you may really like this.
When I got home this afternoon I made the raw vegan Banana Strawberry Basil Frappe (or you could call it Ice Cream) in my Vitamix and drizzled Raspberry Sauce (see my post from last year) and some Pecan pieces over.
Cashews (1/2 Cup soaked overnight and drained)
Medjool Dates (1 Cup)
Coconut Water (2/3 Cup)
Vanilla Powder (1/2 teaspoon)
Basil Leaves (large handful)
Banana (4 peeled, chopped and frozen overnight)
Strawberries (3 POUNDS washed and stemmed)
Puree in the Vitamix til Creamy smooth. Taste and adjust the balance of the Basil and the sweetness of the Dates. Once it is to your liking, pour the mixture into individual 16oz containers or baggies for freezing. Freeze overnight or til you are ready to use them. (I filled four 16oz plastic freezing containers, then I made 4 Popsicles out of the rest of the mixture. This means I can make 4 individual servings of my "Ice Cream" and still have an occasional Popsicle over the next couple weeks. )
To make 1 serving of the Banana Strawberry Basil Frappe: (IN THIS ORDER) Drizzle about ¼ cup of Coconut water into the Vitamix. Add 1 frozen chopped banana to the Vitamix. Add 1, slightly thawed (just enough that it will slide out of the container), 16oz container of the frozen Strawberry Basil mixture into your Vitamix. Use the plunger attachment to help move the ingredients while the Vitamix is running on the "Frozen Dessert" mode. (You may have to do the Frozen Desserts mode twice if you have super frozen items or you can add a smidgen of Coconut water at a time.) Pour into a bowl, top with your favorite ingredients and enjoy! You can see from the picture how thick and creamy it turned out.
I think I will just drink Coconut Water tonight and maybe have a couple of Apricots later for Snack.
Until tomorrow…
Find Heather on Facebook, Instagram, Pinterest and Twitter @hpesthetics. For more information on TSA/RSS, check out www.itsan.org, the International Topical Steroid Addiction Network. You can also read about Heather Petersen's experience at: www.eczemancipated.com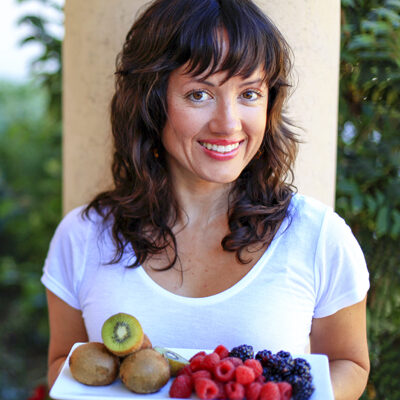 Hi, I'm Christine, thanks for stopping by! As a fibromyalgia thriver (symptom-free for over 10 years now thanks to diet and lifestyle changes), it is my passion to share the healing power of food.
As an RN and Holistic Nutrition Practitioner, it is my desire to empower you to take charge of your life.
Let's journey together to glowing health. Learn More
Your Health Transformation
Starts Here!
Sign up to get FREE healthy lifestyle tips and recipes!