Guest Post: Days 6/7 Raw Vegan Challenge + Chocolate Mousse Recipe
Most of us love to have downtime on the weekends, so Christine and I thought we should make my Saturday and Sunday Raw Vegan Food Journal a double post on Mondays. Maybe it can create a peaceful diversion in the midst of the "Manic Mondays".
Friday I felt a little tired, my throat was sore and my left eye socket felt really congested. My sinuses have been draining since Wednesday. Also I noticed that I have been waking up a lot earlier in the morning this week. I'm assuming this is partly the detoxing my body is going through from being Raw Vegan.
Then Friday night I woke up at 1:30AM in a total itching melt down from my Red Skin Syndrome (TSW). This required that I ice pack myself down for about an hour before falling back to sleep. Therefore Saturday I slept in until 11AM. It was wonderful. It gave me the energy and recuperation I needed to food prep for the weekend and catch up on household chores.
Day 6 and 7 of 30 Day Raw Vegan Challenge
After my morning quart of water, I made a 50oz Green Smoothie we are going to call it "Cacao & Kale". My friend Brianne texted me her recipe, it's her every other day go-to smoothie. I made it according to what I had in the house:
Baby Kale (2 Cups)
Banana (1 peeled)
Almond Butter (1 TBSPN heaping)
Cacao Powder (1 TBSPN)
Cacao Nibs (1 TBSPN)
Coconut Water (3-4 cups)
Cinnamon (1/2 tspn)
Throw it in the Vitamix, blend til smooth and enjoy! It was so delicious. I can see why she drinks it like 3-4 days a week.
I didn't really have "lunch" per say. I just had like 3 Frozen Lime Cashew Cream Sandwiches over the period of a few hours. (Wait til you see the frozen treats that I made for Monday! I worked on them between Saturday and Sunday so I can bring them to a friend's house Monday evening.)
Dinner was exciting. I was inspired by Christine's Cabbage Wrap recipe she had posted on Instagram earlier in the day. Therefore, I made "Yellow Squash Rice" Tacos in Butter Lettuce Cups. I was putting together real tacos for my husband and he saw me creating my Raw Vegan Tacos and said: "That actually looks really good, can I have a bite?" I shockingly replied "wow yeah!" Here is how to assemble the "Tacos":
Butter Lettuce Leaves (3-5)
Salsa (1/4 cup, see previous recipe)
"Yellow Squash Rice" (1/2 Cup, see recipe below)
Avocado (1 ripe peeled, pitted and sliced)
Place a Butter Lettuce Leaf "cup" on a plate. Then place a 2 TBSPN of "Yellow Squash Rice" in the cup and 1 TBSPN Salsa on top. Garnish with slices of Avocado. (To get really fancy, add chopped cilantro and diced sun-dried black olives to the tacos.) ¡Vamos a comer!
Here is the "Yellow Squash Rice" Ingredients and Recipe:
Yellow Squash (1 Medium to Large)
Garlic (1 peeled clove)
Cumin (1 tspn Ground)
Pink Salt (1/2 tspn)
Salt (1/4 tspn)
Cayenne Pepper flakes (1/4 tspn)
Coriander (1/2 tspn Ground)
Chili Powder (a few dashes)
Throw into a Food Processor. PULSE a few times until it resembles grains of rice. (Do not over pulse or you will coax a lot of liquid out of it.)
Dessert was "Chocolate Mousse" with Fresh Strawberries.
Cacao Powder (1 Cup)
Medjool Dates (4)
Avocado (3 Ripe, peeled and pitted)
RAW Agave Nectar (start with ½ cup and then go from there to your taste)
Vanilla Powder (1 tspn)
Cinnamon (1/2 tspn)
Nutmeg (3 dashes)
Coconut water (pour in slowly as it's mixing for desired consistency)
Throw altogether in either a Food Processor or Vitamix and blend til smooth and creamy.  Place Mousse in a serving bowl. Enjoy dipping your Strawberries in them. OR Garnish a small serving of Mousse with diced Strawberries. OR Alternate layers of Chocolate Mousse with a Strawberry sauce to create a parfait. (The plating options are endless!)
That was a wrap for Saturday night.
Sunday morning I woke up and got ready to head off to feast on some spiritual food. Again for breakfast, I grabbed 2 Frozen Lime Cashew Cream Sandwiches and a quart of water for the road. After the meeting we returned home and I ate 5 Yellow Squash Rice Tacos in Butter Lettuce Leaf Cups for Lunch. I was really happy I had made enough for a couple of days, it was so satisfying.
Story time: My close friend Karen and her husband Nathan lived in a guest house on his family's property in Montana for a while. My husband and I visited them on our way moving across the country from NY/NJ to California. Nathan's grandfather had a mini apricot orchard on the property and would sell the Apricots to the local community.  So when we arrived at their home there was a sign on the road that said "Apricots 25 cents each". (I can't quite remember the monetary request, but let's just say it was 25 cents.) Each day over the next 3 days the monetary denomination would change to be lower and lower. By the time we left the sign just read: "COTS!" When Doug and I passed by the sign we just laughed out loud and concocted a story that Nathan's Grandfather  must have gotten so frustrated no one was buying the apricots that he couldn't even get up the energy to write the entire word Apricot nor a price that would tempt people to stop and buy them. LOL!
Segway – I made a 40oz Green Smoothie for dinner. I named it "The Green Banana Cot" in honor of that sign and our story.
Mixed Baby Greens (2 cups)
Apricots (4 ripe)
Banana (1 ripe)
Ginger (2 inch peeled hunk)
Almond Butter (2 TBSPN)
Superfood Powder (2 TBSPN)
Navel Orange (1 peeled and chopped)
Coconut Water (3 – 4 cups)
Blend in the Vitamix til smooth and enjoy.
Later in the evening we went to the beach so that Doug could play volleyball. I alternated reading a bit about the Adrenal glands after Cortisone withdrawal and watched him play. I brought along a bag of GO RAW Sprouted Pumpkin Seeds and a Banana for potential snack, but I never got hungry. So Doug ate the banana when he was finished playing.
Tune in tomorrow. I'm bringing frozen treats to my friend who is having a few of us over. I hope they are good! We'll see…
Find Heather on Facebook, Instagram, Pinterest and Twitter @hpesthetics. For more information on TSA/RSS, check out www.itsan.org, the International Topical Steroid Addiction Network. You can also read about Heather Petersen's experience at: www.eczemancipated.com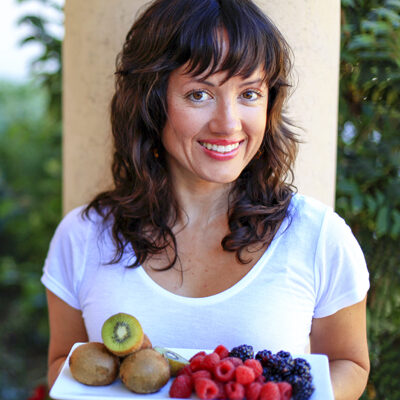 Hi, I'm Christine, thanks for stopping by! As a fibromyalgia thriver (symptom-free for over 10 years now thanks to diet and lifestyle changes), it is my passion to share the healing power of food.
As an RN and Holistic Nutrition Practitioner, it is my desire to empower you to take charge of your life.
Let's journey together to glowing health. Learn More
Your Health Transformation
Starts Here!
Sign up to get FREE healthy lifestyle tips and recipes!