Raw Vegan Arugula Walnut Pesto
This vegan pesto recipe is so fabulous it will have your mouth-watering! It was even approved by an authentic Italian (my husband)  who was born and raised in an Italian town near Genoa where pesto originates from.  In fact, while living there pesto was one of my favorite things to make.  First, because it is so easy yet  so delicious and second, because I love basil.  In this recipe though I created  vegan version and spiced it up with a few different ingredients, and it was so good I was licking my spoon clean.  Even though there is no Parmigiano or Pecorino cheese it still is so cheesy thanks to the Nutritional Yeast used.
Nutritional yeast is a great substitute to you use when you want that cheesy nutty flavor so for this pesto it is perfect! All you need is a tablespoon or two and it can add such a richness to any dish.  There are no are no added sugars or preservatives and is high in B vitamins, protein, folic acid and selenium and is gluten-free.  It is a great addition for any diet but particularly vegans since it is particularly high in B12.
This can be used as a sauce for pasta,  a dip for cut up vegetables or even as a spread in veggie wraps instead of hummus or guacamole.
Recipe:
1 cup packed arugula
1/4 cup basil (about 15 medium to large basil leaves)
1/2 cup packed spinach
1/3 cup walnuts
2 Tbsp lemon juice
1 clove garlic
2 Tbsp nutritional yeast
3 Tbsp high-quality Extra Virgin Olive Oil*
(optional) 1/4 tsp Sea Salt
NOTE: *If you need more olive oil add 1 tablespoon at a time for desired texture or you can substitute water as well but it may won't be as creamy.
Blend all the above ingredients in a food processor until smooth and creamy. pour into a small bowl as a dip or pour on top of raw zucchini noodles and mix in well.
This is so delish I can't wait for you to try it! Do you have any pesto variations that you love? If so, please share!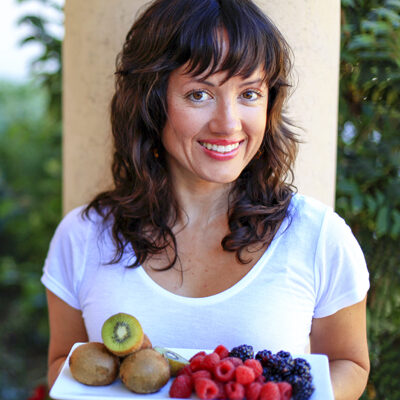 Hi, I'm Christine, thanks for stopping by! As a fibromyalgia thriver (symptom-free for over 10 years now thanks to diet and lifestyle changes), it is my passion to share the healing power of food.
As an RN and Holistic Nutrition Practitioner, it is my desire to empower you to take charge of your life.
Let's journey together to glowing health. Learn More
Your Health Transformation
Starts Here!
Sign up to get FREE healthy lifestyle tips and recipes!