Smoothie Recipe: Dairy-Free Strawberry Shake
Every morning I start my day with a smoothie for breakfast and  I aways try to add some leafy greens to it.  It is the best way to start the day, energized with a powerhouse of nutrition.  I have a ton of energy, mental clarity and don't feel weighed down after like I would if I had eaten a cooked breakfast.
Lately I have been on a Red Chard kick and what I like about it is that the stems are mildly sweet. I use them in the smoothies and they are not so bitter as other stems, like that of  kale.  This smoothie recipe is so delicious and the texture is so creamy like a shake but of course it is dairy-free and super healthy! You would never know there's chard in it! Great way to get kids to eat more greens!
For this recipe I wanted to keep the strawberry color so I used mostly the red stems and only the leaf of one, but if you don't care about the color feel free to add more leaves.
 Smoothie recipe:
1 ripe spotted banana, peeled
1 frozen banana
5 frozen strawberries
1 cup red grapes
1 young Thai coconut, the water of ( about 1 1/4 cup)
2 large medjool dates, pitted (more if you like it sweeter)
4 stems of red chard & the leaf from one (just to keep the pink color)
1 Tbsp hemp seeds
Blend all the ingredients, except for hemp seeds into the Vitamix, or any high-speed blender, until smooth and creamy. Top with hemp seeds.
Health facts about Swiss Chard:
– Chard leaves are an excellent source of Vitamin C, an anti-oxidant protecting cells against the damage of free-radicals.  Studies show that regular consumption of foods rich in vitamin C helps prevent iron deficiency, helps the body develop resistance against infection by boosting immunity and helps maintain normal connective tissue.
– It is a rich source of omega-3 fatty acids, vitamin A, Beta carotene and lutein, which is very important in maintaining proper function and health of the eyes.
– Chard is also rich in minerals like copper, calcium, sodium, potassium, iron, manganese and phosphorous.  Iron is required for red blood cell formation. Potassium is important in helping to control heart rate and blood pressure.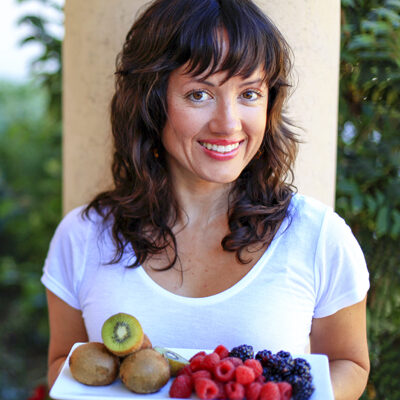 Hi, I'm Christine, thanks for stopping by! As a fibromyalgia thriver (symptom-free for over 10 years now thanks to diet and lifestyle changes), it is my passion to share the healing power of food.
As an RN and Holistic Nutrition Practitioner, it is my desire to empower you to take charge of your life.
Let's journey together to glowing health. Learn More
Your Health Transformation
Starts Here!
Sign up to get FREE healthy lifestyle tips and recipes!