Savory Garlic Cumin Zucchini Chips
Having a case of the munchies? These savory zucchini chips are just what you should be grabbing for! They are spicy, full of savory flavor and are a great substitute to greasy, fatty, salty potato chips.  They take at most ten minutes to prepare, so they are a simple, easy snack to always have in the house.  Always having a few snacks to pull from in the house is so important.  In those moments when you are really having cravings for munchy foods and want something quick, they can be a real lifesaver.  Ready made healthy raw snacks keep you reaching for something else that you will only regret later.  I pack these zucchini chips in a little bag and bring them to work. I enjoy them so much I never feel like I'm missing out when I see others eating their junk food.
I usually take one day out of the week, usually Sunday, and prepare all my snacks for the week to have on hand.  I like to fill my dehydrator with these zucchini chips, kale chips and anything else I am going to dehydrate and then I am set for the week.  After all if you are going to use two trays you mine as well use all nine trays and be efficient.
These chips are gluten-free, salt-free and guilt-free.  So ditch the bag of greasy chips and throw a batch of these in the dehydrator.  Unlike potato chips you can have as many as you want and not have to worry about counting the calories!
This recipe is inspired by Judita Wignall's book Going Raw. This is just one of many really great recipes found in her book. Thanks Judita!
Recipe:
2 medium zucchini
2 Tablespoons garlic powder
2 Tablespoons high-quality olive oil
1 teaspoon cumin
1/2 teaspoon smoked paprika
1/4 teaspoon cayenne
1/2 lemon, juice of (about 2 Tbsp)
(optional) 1/2 teaspoon turmeric
1) Use a mandoline to slice zucchini chips very thin (the thicker cut the longer it takes to dehydrate so make sure to slice very thin) and toss into a small bowl.  2) In a medium size bowl combine all the rest of the ingredients and mix until becomes pasty.  3) Pour the zucchini's into the bowl and mix thoroughly and gently with your hands making sure to coat each zucchini chip well.  4) Lay the zucchini chips on a mesh dehydrator tray and set the temperature at 105 degrees.  They'll need at least 12 hours or until crispy.
Once removed them from the dehydrator store them in an airtight container in a cool dry place.  They'll last two to three weeks, but the sooner consumed the better since it's difficult to maintain their crispiness.
NOTE: If you don't have a dehydrator you can cook them in the oven for around 15 minutes (or until crispy) on 325 degrees. Just make sure to keep an eye on them cause they can easily burn!
Enjoy guilt-free and share! 🙂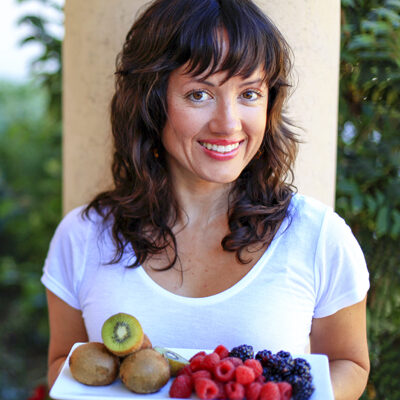 Hi, I'm Christine, thanks for stopping by! As a fibromyalgia thriver (symptom-free for over 10 years now thanks to diet and lifestyle changes), it is my passion to share the healing power of food.
As an RN and Holistic Nutrition Practitioner, it is my desire to empower you to take charge of your life.
Let's journey together to glowing health. Learn More
Your Health Transformation
Starts Here!
Sign up to get FREE healthy lifestyle tips and recipes!