No Bake Gluten-Free Energy Bites
These no bake gluten-free energy bites make for the perfect snack that hit the spot when you have a sweet tooth or need that energy boost.  They are deliciously satisfying without the guilt afterwards! These babies are raw, dairy-free, no added sugar and gluten-free.  What more could you want? 🙂
I have found that the success to eating and maintaining a healthy diet, and especially a raw food diet is to always be prepared.  When I am prepared with my own delicious snacks I am never tempted to cheat. And in case of emergency if I get super hungry instead of caving in to something I would later regret, I have my handy-dandy snacks to tide me over. Of course the best snacks to keep on hand are fresh, whole fruit.  But sometimes it's nice to just change it up a bit and that's where these energy bites come in handy.  I like to make a big batch and freeze them, keeping a few in the fridge to have ready to eat.
The beauty of these no bake gluten-free bites are that you can easily make a variety of flavors with them, just by changing the nuts, seeds, or fruit used.  Feel free to use which ever combinations you prefer. So if you don't like tart Bing cherries use cranberries or raisins, or instead of pepitas use sunflower seeds.  Kids also love these little bites, they are fun to make and roll into little balls and then of course to eat.
So I hope you love them as much as I do!
Makes 12 Bites
Recipe:
1/2 cup macadamia nuts
1/2 pepitas
1/4 cup gojii berries
1 3/4 cup medjool dates, pitted (about 18 if they are medium size)
1/2 tsp cinnamon
1/2 cup dried unsulphured tart cherries
Directions:  1) Set aside a few pepitas and goji berries, in a small bowl.  2) Combine the  rest of the goji berries and pepitas along with all the dry ingredients in a food-processor and pulse it a few times just until it becomes chunks (be careful not to overdo it because you want texture not fine powder).  3) Add the dates and cherries and continue to pulse blend until it becomes a dough-like consistency. 4) Then roll the mixture into bite size balls adding in the rest of the pepitas and goji berries.  5) Freeze for about an hour.
 Serve and enjoy!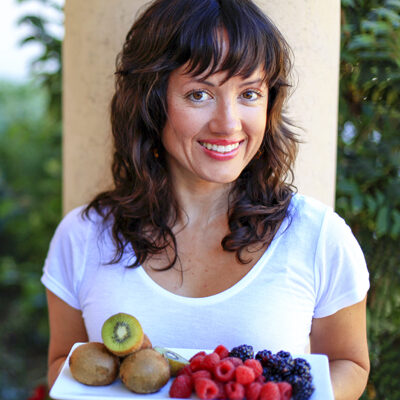 Hi, I'm Christine, thanks for stopping by! As a fibromyalgia thriver (symptom-free for over 10 years now thanks to diet and lifestyle changes), it is my passion to share the healing power of food.
As an RN and Holistic Nutrition Practitioner, it is my desire to empower you to take charge of your life.
Let's journey together to glowing health. Learn More
Your Health Transformation
Starts Here!
Sign up to get FREE healthy lifestyle tips and recipes!