Heart Healthy Chia Porridge
This chia porridge is packed with protein and fiber to keep you full and satisfied throughout the day. It packs a powerful punch of nutrients giving you the minerals to nourish your cells and the energy you need to kick-start your day and your brain into gear.  It takes less than five minutes to make so it's perfect even for a busy schedule. There's no excuse not to eat a healthy breakfast.
Being the nutrition nerd that I am of course I had to study  all the health benefits that chia seeds have to offer, and let me tell you these seeds might be tiny but they pack a mean nutritional punch! I just have to share with you their amazingness! This little seed is the richest source of plant-based Omega-3 known containing eight times more Omega-3 than salmon. They have five times more calcium than milk and three times more iron than spinach. Chia seeds contain 20% protein and are a better source of protein than beans or legumes. To see all the benefits chia seeds offer click here.
Chia seeds are a powerhouse of nutrients full of high quality protein, calcium, iron, and antioxidants.  They contain Essential Fatty Acids (EFA's) that are vital for a healthy heart.  In particular Omega-3's have been shown to help to reduce heart disease and strokes by preventing inflammation of the blood vessels and the formation of clots, maintaining a lower blood pressure and heart rate.
Three interesting facts about chia seeds:
– Chia seeds swell when mixed with liquids to form a gel. This can used in place of eggs to lower cholesterol and increase the nutrient content of foods and baked goods. To make the egg replacement, mix 1 tablespoon of chia seeds with 3 tablespoons of water and let sit for 15 minutes.
– Unlike flax seeds, chia seeds do not need to be ground get their nutrient or egg-replacement benefits.
– Chia seeds contain no gluten or grains.
Recently Chosen Foods sent me a bag of their chia seeds to try.  They are pesticide-free, GMO-free and purity guaranteed.  When I see that little GMO-free label it just makes me so happy that finally we are seeing some progress to at least know what's in our food.  I mean that's the least the food industry can do isn't it? Anyway that's one subject I can really go off on a tangent about but back to Chosen Foods…
If you want to order some chia seeds, or any of their wonderful products, they have been so kind as to offer all my readers 10% off their first order! I thought that was pretty awesome, I love when I get to share with you a discount. Who doesn't want to save some money?  All you have to do is go to Chosen Foods to order and use the code "CF&GWH" when you check out.
Red fruits and veggies are loaded with powerful, heart healthy antioxidants that help fight heart disease and may lower the risk of strokes.  Raspberries and berries in general are wonderful anti-inflammatory fruit so don't be shy in loading up on them. When I feel a potential fibro flare-up I pack in the berries and I'm telling you they really help with pain and inflammation!
Serves: 1
Recipe:
1 1/2 cups coconut milk
1/4 cup chia seeds
1 banana
1/2 tsp  cinnamon
1/4 tsp vanilla extract
(Optional for more sweetness) 1 medjool date, pitted
Raspberries, pomegranate seeds, sliced kiwi for topping
Directions:
1) Pour  chia seeds into a jar with the coconut milk and stir immediately to avoid clumping. Let it sit for at least 30 minutes or until it turns into a gel looking like this:
2) Blend the chia gel with the banana and cinnamon until smooth.
3) Pour into a bowl and top with berries, pomegranate seeds and kiwi.
I hope you enjoy this recipe and if you order any products from Chosen Foods feel free to leave a comment below I'd love to hear how you enjoy them!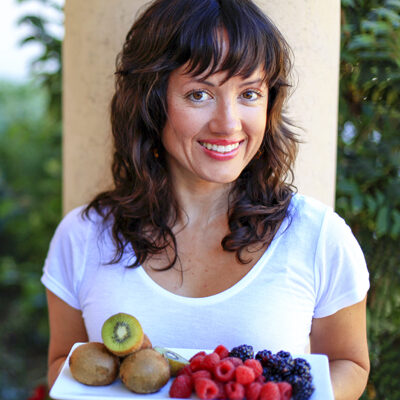 Hi, I'm Christine, thanks for stopping by! As a fibromyalgia thriver (symptom-free for over 10 years now thanks to diet and lifestyle changes), it is my passion to share the healing power of food.
As an RN and Holistic Nutrition Practitioner, it is my desire to empower you to take charge of your life.
Let's journey together to glowing health. Learn More
Your Health Transformation
Starts Here!
Sign up to get FREE healthy lifestyle tips and recipes!