Guest Post: Sweet Potato Cake with Lemon Frosting
DAY 22
Yes it is! Day 22 of the 30 Day Raw Vegan Detox Challenge. We only have 7 days left, as it's the close of Day 22. Who wants to do a 7 Day Raw Vegan Detox and send us off with a bang? Be sure to check out both Christine @justglowingwithhealth and me @hpesthetics  on INSTAGRAM and tag us with your food pics if you are going Raw. If 7 Days is still too much for you, may be you can try 3 Days. Keep us posted and tell us how you are doing!
Day 22 of 30 Day Raw Vegan Detox Challenge
This morning I made a big Cacao and Mixed Baby Greens Smoothie. 
Mixed Baby Greens (2 cups)
Bananas (2 peeled)
Almond Butter (3 TBS)
Cacao Powder (1 TBS)
Cacao Nibs (1 TBS)
Coconut Water (3 Cups)
For Snack I shared a plate of fresh Lychee with a friend after some volunteer work. I've never eaten a fresh Lychee. It has a peel and a pit, both are easy to remove. The sweet juice flavor is remarkable. Be sure to try some if you have the opportunity to find them fresh.
For a second snack, I had the rest of my veggie sticks and black olive dip from yesterday.
I had really been eyeing Christine's Carrot Cake recipe from the other day. But I didn't have all the same ingredients. So I made a spin on her recipe, Sweet Potato Morning Glory Cake with a Lemon Frosting. It was such a great dinner!
For the frosting:
Cashews ( 1  1/4 cup, soaked 6+ hours, drained and rinsed)
Vanilla Powder (1/2 tsp)
Lemon (juice of 2 1/2)
Lemon (zest of 1)
Dates (4 Medjool, pitted)
Agave Nectar (3 TBSP)
In a high-speed blender blend all the above ingredients. (If using a Vitamix you will probably have to scrape down the sides several times with a spatula.  It may take up to five minutes to get it blended.)  Pour into a small bowl and set aside.
Sweet Potato Morning Glory Cake:
Pink Lady Apple (1 apple cored and rough chopped)
Throw Apple in the Food Processor and pulse til it resembles Granola
Sweet Potato Pulp (2 Peeled and Juiced, use the pulp only)
Pecans (1/2 cup, soaked 6+ hours, drained & rinsed)
Dates (1/2 cup medjool, pitted – approx. 7 dates)
Golden Raisins (1/2 Cup)
Coconut (1/2 cup shredded)
Ginger (1 inch hunk peeled)
Vanilla Powder (1 tsp)
Cinnamon (2 tsp)
Add the all the ingredients into the Food Processor WITH the ground apple and pulse until it becomes a coarse sticky mix.  Make sure not to over process.
Line an 8×8 glass baking dish with wax paper.  Press the mix evenly into the dish, place in freezer for about 45 minutes. Take out of the freezer and frost generously.  Sprinkle cinnamon and top with golden raisins…. This would be so good with some Dandy Blend tea or a cup of coffee.  
Comment: The Lemon frosting could be used in so many ways. It will definitely be a staple in my home for sweet treats.
Find Heather on Facebook, Instagram, Pinterest and Twitter @hpesthetics. For more information on TSA/RSS, check out www.itsan.org, the International Topical Steroid Addiction Network. You can also read about Heather Petersen's experience at: www.eczemancipated.com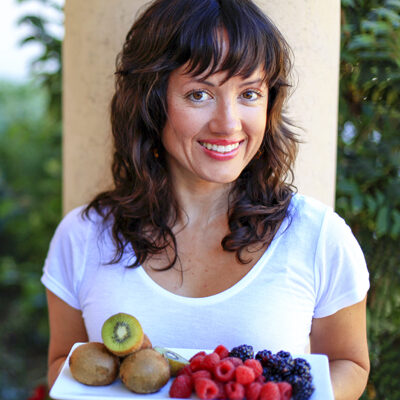 Hi, I'm Christine, thanks for stopping by! As a fibromyalgia thriver (symptom-free for over 10 years now thanks to diet and lifestyle changes), it is my passion to share the healing power of food.
As an RN and Holistic Nutrition Practitioner, it is my desire to empower you to take charge of your life.
Let's journey together to glowing health. Learn More
Your Health Transformation
Starts Here!
Sign up to get FREE healthy lifestyle tips and recipes!