Lemon Drop Green Smoothie
This lemon drop smoothie has the perfect amount of sweetness with a dash of lip puckering lemon that it made me think of a lemon drop.  Until recently, I never paid much attention to Meyer lemons.  I would just always grab the same 'ol bag of organic lemons at the store and not think anything of it.  But by "mistake" one day I picked up Meyer lemons and to my surprise they were so delightfully sweet.  Where have I been all this time to not realize this?? So needless to say, Meyer lemons are definitely a part of my shopping list now and I love them in juices, salads, smoothies and even in my water, they add such a refreshing flavor.
So the key to this green smoothie recipe is that the Meyer lemon is juicy, ripe and sweet.  Because what really makes it is the lemon…thus the name lemon drop smoothie :). I made this as a snack so it makes only two glasses, but feel free to play with the ingredients and make a meal out of it.
Servings 2 glasses (about 16 ounces)
Recipe:
2 large bananas
2 kale (Dinosaur) leaves, stems removed
1 1/2 cup frozen mango
1 quarter size chunk ginger
1 Tbsp organic Meyer lemon juice (about 1/2 of a small lemon)
1 thick slice lemon
1/3 cup coconut water (more or less for desired consistency)
Blend above ingredients (except slice of lemon) on high in blender until smooth. Pour into a glass adding the lemon slice.   (I like to take a fork and break up the slice gently stirring it to mix it in well. But if you prefer you can leave the slice in the smoothie to let the flavor soak in as is.)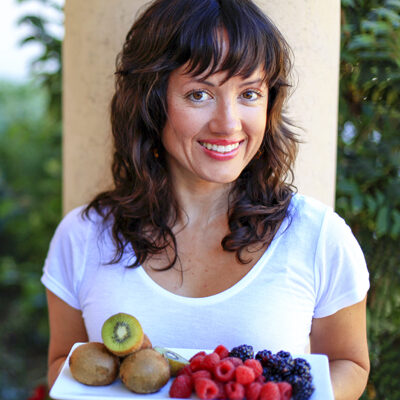 Hi, I'm Christine, thanks for stopping by! As a fibromyalgia thriver (symptom-free for over 10 years now thanks to diet and lifestyle changes), it is my passion to share the healing power of food.
As an RN and Holistic Nutrition Practitioner, it is my desire to empower you to take charge of your life.
Let's journey together to glowing health. Learn More
Your Health Transformation
Starts Here!
Sign up to get FREE healthy lifestyle tips and recipes!