Creamy Mango Apricot Smoothie
This mango apricot smoothie is like dessert in a glass.  What is so amazing is that with  just a three different fruit whipped up in a blender in less than one minute you can have a perfect meal ready to go! There is no added sugar in this smoothie, there is absolutely no need for it.  The key is using really ripe, fresh fruit.  When fruit is ripe the natural sugars in it are naturally so sweet you won't need to add anything else.  The simplicity of  ripe, whole, organic, raw fruit blended is really a treat in itself.  No dairy, soy or added sweetener needed here!  So I invite you to enjoy the simplicity of this smoothie and its natural sweetness and share it with your family and friends.
Servings 1
Recipe:
1 mango peeled, seed removed, and cut into large chunks
4 ripe apricots, seeded and cut in half
10-12  organic strawberries, with green tops
1 Tbsp lemon juice
(optional) 1 cup ice
Mix all ingredients in a blender until creamy.  Pour into a large glass and delight in every sip! 🙂
Here are some nutritional health facts about mangoes:
– Mangoes are high in fiber ( fiber  is important to lower cholesterol and promote healthy digestion).
– They are an excellent source of vitamin A (beta carotene), vitamin C and vitamin E which are antioxidants which protect against free-radical damage and makes them powerful cancer fighters.
– Mangoes also have digestive enzymes, which are very important  in aiding digestion.
Mangoes make great snacks, they are easy to carry with you, and taste delicious!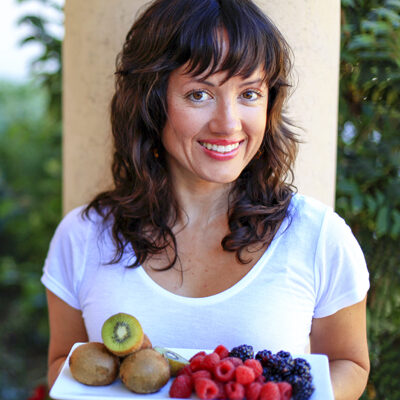 Hi, I'm Christine, thanks for stopping by! As a fibromyalgia thriver (symptom-free for over 10 years now thanks to diet and lifestyle changes), it is my passion to share the healing power of food.
As an RN and Holistic Nutrition Practitioner, it is my desire to empower you to take charge of your life.
Let's journey together to glowing health. Learn More
Your Health Transformation
Starts Here!
Sign up to get FREE healthy lifestyle tips and recipes!