Fall is officially here and the cooler weather is starting to peak its head over here in Los Angeles, ever so slightly.  I just love fall, I love making soups and sipping on my pumpkin latte or raw vegan nog.  It's just a cozy season.  I really am looking forward to cooler weather here.
This month my husband has put himself up to the challenge of a 30 day plant-based diet.  At least half of that he is trying to eat raw foods.  I have to say I am really impressed with his efforts, he has been doing really good.  Mind you this is coming from a man who before I met him was eating some type of meat at almost every meal, especially prosciutto, that really was his first love before me! So if you are thinking your mate or family will never give up, or at least greatly cut back  their carnivorous habits let me tell you there is hope!
I love having him eating this way because it gives me more incentive to get creative to make sure he likes the food too.  And when he gives me the thumbs up I know it must be good so of course I have to share it with you!
This raw, dairy-free soup only takes five minutes to make, that is with preparation and all!  Talk about keeping it simple and quick, there is no excuse not to find five minutes to eat a healthy meal.  I like to have a nice green leafy salad with this, it complements it nicely.  Dehydrated crackers are nice too.
This soup is oil-free and salt-free.  On the Standard American Diet (SAD) oils and salt are found in everything.  I really try to avoid them as much as possible.  Sun-dried tomatoes tend to be salty, so I added them to give that added flavor without the extra salt.  To read more on reasons to avoid salt, click here. If you have a high-speed blender like a Vitamix it's really nice because it actually warms the soup, if not this it's still really good at room temperature.
Enjoy this savory soup!
Serves 1
Recipe:
5 vine ripe organic tomatoes
1/4 cup raw cashews (soaked over night, rinsed and drained)
1/4 cup oil-free sun-dried tomatoes ( I use Just Tomatoes)
1/4 cup basil leaves
1 Tbsp fresh rosemary
1 tsp dried oregano
1/8 tsp red chili pepper flakes
(optional) 2 Tbsp nutritional yeast
Directions: Put all the above ingredients in the blender and blend for about one minute until creamy.  IF you have a high-speed blender and want it warm, blend for at least two minutes. Pour into a beautiful bowl, garnish with basil leaves and chili flakes.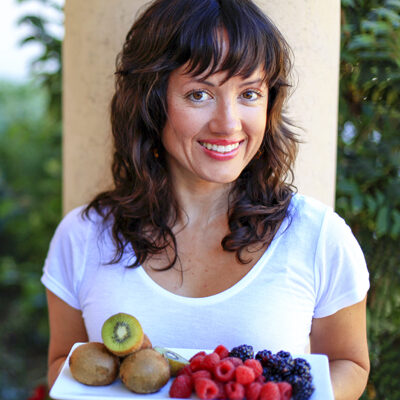 Hi, I'm Christine, thanks for stopping by! As a fibromyalgia thriver (symptom-free for over 10 years now thanks to diet and lifestyle changes), it is my passion to share the healing power of food.
As an RN and Holistic Nutrition Practitioner, it is my desire to empower you to take charge of your life.
Let's journey together to glowing health. Learn More
Your Health Transformation
Starts Here!
Sign up to get FREE healthy lifestyle tips and recipes!